Preparing for the Future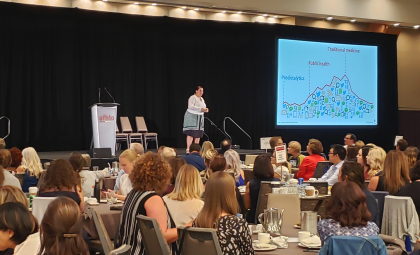 Each year, family health teams from across the province gather to connect with one another for a day of learning and networking. And this year's Association of Family Health Teams of Ontario (AFHTO) Conference was no different. However, this year there was a greater focus on coordination, collaboration and change – all having to do with the transition to Ontario Health Teams (OHTs). Members were eager to learn how this model of care will impact them, their patients, and their clients.
But one thing is for certain, FHTs are always ready to adapt and make changes when it comes to providing safe, quality care. 
For example, in Kitchener-Waterloo, New Vision FHT is exemplifying the heart of family health teams across Ontario. They've addressed waiting room wait-times by developing a more structured way of caring for their patients. By using tactics like a multidisciplinary team (including registered nurses and nurse practitioners) to assess patients, flow sheets to record outcomes, and snapshots of patient progress, New Vision found that they were able to increase communication and understanding, reduce silos amongst their team, and ultimately increase healthcare access and efficiency for their patients.
This year's conference also featured a unique space hosted by HIROC, healthcare's trusted safety advisor. The HIROC Brain Bar was a space for delegates to network and have conversations about what's trending in the sector. People were curious about the HIROC story as well as how HIROC is helping its subscribers navigate the transformation in the healthcare system.
Delegates learned that HIROC is devoted to supporting Ontario healthcare organizations with the OHT shift, and it will be working with subscribers and partners to ensure healthcare staff are prepared with the right resources to create a patient-centred experience. If your organization would like more information on how HIROC can support your OHT, please reach out anytime – inquiries@hiroc.com.
The future of health
Keynote speaker Dr. Zayna Khayat, Future Strategist at SE Health, embodied the spirit of the event with a lively presentation. She set the tone for the rest of the conference, inspiring delegates to think differently about the future of health.
"I honour the chance to be here in front of 800 delegates from family health teams because you guys are the crown jewel of our health system," said Dr. Khayat.
Her words showed a profound appreciation for the hard work of healthcare innovators across the country while indicating there's still more to be done to prepare for the future of healthcare in the province. Throughout her presentation, Dr. Khayat identified multiple shifts happening in Ontario's healthcare system and offered a glimpse of where it's headed.
One of those shifts will be how our health system is currently changing from a "one-size-fits-all" model to something more precise. Dr. Khayat said that traditionally, the results of clinical trials would determine what works for the average patient. However, this shift is all about moving to a more personalized and intelligent model of care. She expressed that our "digital exhaust," which is the data we generate in everyday actions, can be analyzed and used it to predict care needs.
Another shift Dr. Khayat identified was how traditional care practices need to make room for digital integration. Rather than doing away with physical care, she says that there will be a blend of both digital and physical in the future because this shift is about decentralizing the patient experience. For example, a mobile ultrasound unit that can go anywhere and be used by anyone will fundamentally change both the patient's experience and their expectation of healthcare.
Understandably, Ontario healthcare professionals are heavily invested in what the future of primary care will look like, how it will function, for both themselves and the patients they're committed to caring for day-in, and day-out. 
HIROC will continue supporting our subscribers as they navigate system changes, and our partners through conferences like AFHTO which brings key healthcare partners together to share knowledge, foster dialogue and continue to promote patient safety.