The Power of Partnership: AdvantAge Ontario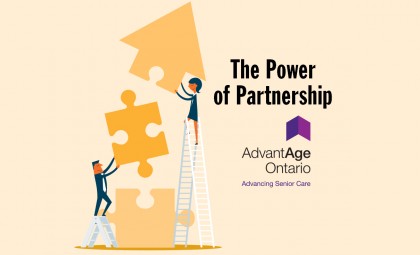 Welcome to our series on the many HIROC partners who make a difference in safe care. Introducing AdvantAge Ontario...
How AdvantAge Ontario come to be…
In 1919, a small group of committed individuals, fueled by a desire to improve care for seniors, came together to form the Association of Managers of the Homes for Aged and Infirm. At this early meeting, superintendents, matrons and county representatives from Haldimand, Lincoln, Welland, and Wentworth counties met to create a formal group to support each other and share ideas. From these humble beginnings came the strong, vibrant association that AdvantAge Ontario is today. Now, as we celebrate an incredible 100 years of serving our not-for-profit members, we are proud of our history and we will continue to advance senior care.
Who it serves…
Originally founded by municipal representatives, the Association has grown considerably over the years to serve a wide range of not-for-profit senior care providers. We represent not-for profit, charitable, and municipal long-term care homes, seniors' housing, and seniors' community services. We also have a number of sector associations and commercial companies as part of our membership, including HIROC, and we help connect these organizations to our not-for-profit members. 
Adapting to change…
It's challenging to summarize a century of supporting our members! However, it's fair to say that we've grown many times to reflect changes in the senior care sector. For example, in the '40s, the Association expanded to include charitable homes, a few years before the Homes for the Aged Act was passed. In the '60s and '70s, we grew once again as our member homes developed unique supports for both their residents and communities. In the '80s, we began to welcome non-profit nursing homes, housing, and home support services to our membership. Throughout the years, we have grown as the sector has grown and our members' needs have changed. We have also consistently advocated on our members' behalf as numerous healthcare acts and legislation have been introduced, and as both the population and care needs of seniors has grown increasingly more complex. 
A focus on knowledge sharing and education...
Knowledge sharing and education are critical to supporting our members in providing care. With our aging population and with advances in care, the definition of a senior is constantly changing, and the typical long-term care home resident is dramatically different today than what he or she would have been 100 years ago. That being said, we're fortunate that knowledge sharing is a hallmark of the not-for-profit senior care sector. Our members are driven by a common purpose, not profit, and they see each other as partners in collaboration, not competitors. In fact, this openness to collaboration, for the purpose of providing excellent care, is the very reason why our founding members came together in the first place. And it continues to drive the Association today. 
For our own offerings, we're very fortunate to have an outstanding educational program, which includes everything from timely webinars, to in-depth workshops, to our weekly Administrator Leadership Program, to our annual three-day Convention. We provide a variety of education and knowledge-sharing opportunities to help our members stay up-to-date on the latest changes and best practices in senior care.
On the horizon…
The past few years have been a time of significant change and growth for the Association, as we have rebranded, increased our program and service offerings, and celebrated our 100th anniversary. 
We have just embarked on our new five-year strategic plan, focused on three strategic directions: lead with a collective voice, empower a vibrant membership, and support our dynamic team. With this plan, we are poised and energized to meet the challenges and opportunities for seniors' care, navigate a new political landscape, and lead the change that the sector needs.
As always, we will of course continue to represent our not-for-profit members' needs to the government. We are fortunate to enjoy strong relationships with various ministries and government staff, including the new Minister of Long-Term Care, and we will continue to collaborate with them and other stakeholders to ensure our members have the supports they need to provide excellent care. 
Why partnerships are critical…
Long-term care, and more broadly senior care, cannot be delivered effectively alone. It takes a wide range of partners and stakeholders to work together to help our members deliver the very best care at the bedside. Just as a long-term care home requires a team of care experts to support the seniors they look after, the Association, and our members, benefit the most by working together with other associations, with government, and with our commercial members. 
Our mission is to represent and support our members in providing a continuum of quality not-for-profit long-term care, seniors' community services and housing. And we value and believe in shared learning and collaboration, recognizing excellence, and an integrated health delivery system. We realize our mission and these values by working closely with our members and our partners. 
We are fortunate to count HIROC as a long-standing member of our Association, and we are grateful for the support that you provide. We are particularly appreciative of your regular presence at our annual Convention. And we value your support of our annual Awards program, including our Leadership Award, which helps us to recognize excellence in not-for-profit senior care. By working together to recognize the achievements of the senior care sector, we are collaboratively setting the standard for delivering outstanding care. 
This series was originally published in the Fall 2019 edition of The HIROC Connection.