The Patch Adams of the East Coast: A Conversation With IWK Health's Nana Margie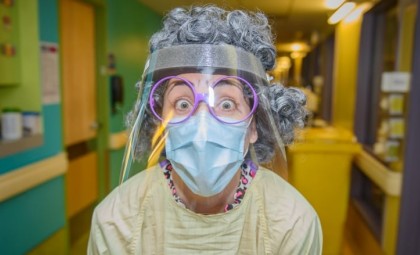 Nana Margie isn't just any therapeutic clown – she was made for the job. 
We had the opportunity to chat with her over Zoom (or "the Zooms" as the calls it) from her office at IWK Health, a HIROC Subscriber located in Halifax, Nova Scotia.  
As an essential worker, she's been on duty since the start of COVID-19. A hard time for healthcare, but she's clearly positive as ever. She beams with pride as you'll see in the lively video interview, which is why we wanted to place IWK in the spotlight as a February Feel good story.
Watch the video interview now!
Nana Margie speaks with a thick accent that sounds like a mix of Newfoundland, Cape Breton, and caring aunt. I asked her where her accent is from, and she told me it's partially from working in "the Atlantic Canadas", and the island she grew up on. 
Island? I asked. 
"Grandma Nan," she says. "It's next to the island there that's called Grand Manan, they put all the elder clowns there."
Grand Manan is a real place, an island off the coast of New Brunswick in the Bay of Fundy. 
Apparently "Grandma Nan" is as well. 
What was it like to grow up on that island, I asked. "I don't know if I ever grew up to be honest with you," she says. 
A Day In the Life
Nana Margie tells me her average day consists of knocking on doors, and seeing if people, usually children staying in the hospital, want to hang out. 
"If they say no, then I say 'thank you very much, have a good day' and I keeps on going," she says. "If they say yes, well then I just go in, and the day is theirs."
Once this happens, Nana Margie tells me they'll play games, tell silly stories, make crafts, and sometimes play pranks on the nurses. 
When it comes to pranks, her favourite involves startling IWK Health staff with fake mice. 
Why does she love her job? Bending the rules.  
"I think there's too many rules in the real world," she says. "When I'm being let in to visit someone, I'm being given some permission to be let into their awesome imaginary world, and being shown how to bend some rules. That's not a gift everyone gets to participate in."
Nana Margie, working in a children's hospital, has a lot of friends. A lot of them are kids going through what no kid should ever have to experience. 
I asked her how she strives to make them feel, and she said she doesn't strive to make them feel anything – but strives to meet them where they're at. 
"If they would like to escape that a little bit, well then we can take a giant cardboard box and some paint and do that," she says. "If they just need someone to listen to them for a little moment, then that's what we do too." 
"At the end of the day, there's something about being present that suddenly brings out a magic, and a joy," she says. 
Margie says she's also learned that kids don't get enough credit. 
"Kids see things in a way that we sometimes forget how to see," she says. "They've got an imagination and a reality that we, for some reason, have turned off when we get older. We grow up, and we set rules and boundaries. Kids know better." 
"They've taught me that sometimes, the rules need to be questioned," she says. "And that's the first step to discovering your inner clown."
---
Does your organization have a similar initiative? We'd love to hear about it and share your story with HIROC Subscribers.
At the end of the day, the Reciprocal model is all about sharing successes, knowledge and stories, that can help others scale lessons learned at their organizations.
Drop us a line at communications@hiroc.com.
 
By Julian Abraham, Communications and Marketing Associate, HIROC