Nursing the World to Health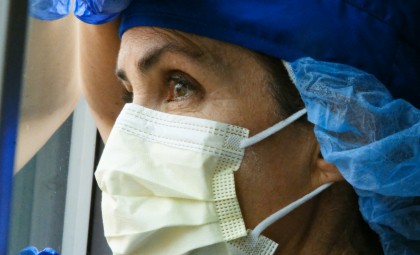 We've been hearing a great deal about the COVID-19 pandemic and how we can, rightfully, celebrate the many healthcare heroes across Canada working to keep us safe. But today I want to acknowledge some very specific heroes in our midst, our nurses.
As you all know, National Nursing Week runs from May 11-17. This year is a particularly special year given that the WHO designated 2020 as the Year of the Nurse and Midwife in honour of the 200th anniversary of Florence Nightingale's birth.
National Nursing Week and what it means, strikes a chord with me for a number of reasons. 
For those of you who don't know, I started my career very young, becoming a registered nurse at the age of 19. I immediately loved it. I'm a quiet person by nature, but as a nurse you're immediately thrust into a personal relationship with patients and their families. It's a privilege to be part of people's lives in this way.
While I've gone in a few different directions since then, I've always cherished those early days in my career. As such, I hold a particular appreciation for the work nurses across Canada do every day. 
Along with fellow providers, nurses are there day in and day out, putting patients and clients (essentially those we have the privilege to serve) first. Whether they work in hospitals, in long-term care, in patients' homes or other settings – they are leaders in our healthcare system. 
And while the role of nursing, like many professions, is being tested and challenged as a result of this pandemic, each of you are stepping forward and working together to control the effects of COVID-19. 
At HIROC we have a number of former nurses who are part of our staff and who bring incredible value to the organization. They, along with our entire staff, ensure that we are in touch with and responding to our Subscribers' needs and the challenges they face.
So to begin National Nursing Week, from all of us at HIROC, we would like to say how incredibly thankful we are for each and every nurse across Canada. We are here to support you in responding to the current crisis and whenever you may need us.
Take care and stay safe. 
Catherine Gaulton
Chief Executive Officer