Not All Meds Get Along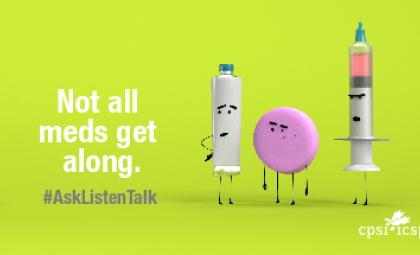 HIROC IS PROUD TO SUPPORT CANADIAN PATIENT SAFETY WEEK 2018
Wednesday, October 03, 2018 – HIROC News
At HIROC we know that medication adverse events is one of the top risks that our subscribers are focused on. That's why we are proud to support this year's Canadian Patient Safety Week, taking place from October 29 to November 2. Along with the Canadian Patient Safety Institute (CPSI), we believe in the importance of medication safety and the mission of ASK. LISTEN. TALK.
 
This year's Canadian Patient Safety Week theme is Not All Meds Get Along, prompting patients and healthcare professionals to initiate medication reviews for anyone on five or more medications. Medication errors can result in severe harm, disability and even death which is why everyone has a role to play in medication safety.
 
Canadian Patient Safety Week encourages patients and healthcare professionals to start a conversation and ask the right questions about your medications.
 
This year CPSI is also offering a few fun and exciting activities for Canadian Patient Safety Week, all centred on the theme of medication safety. These include: the new Not All Meds Get Along "Caption This" comic challenge; a new Medication Safety quiz for patients and providers; a virtual screening and Twitter Talk Event of Falling Through the Cracks: Greg's Story; and, new episodes of CPSI's award-winning PATIENT podcast.
 
CPSI looks forward to celebrating Canadian Patient Safety Week with healthcare organizations across Canada, including their staff, clients, and patients.
 
From all of us at HIROC, we are looking forward to an exciting and engaging week, one that is truly focused on collaborating for excellence in healthcare safety.
 
Together, we can make this year's event a success!
 
Register today at www.asklistentalk.ca.