The Next Chapter for Children's Healthcare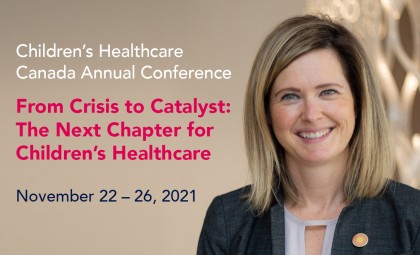 From November 22-26, Children's Healthcare Canada is hosting its annual conference. This event brings together children's health advocates, providers, leadership, and patient and family partners to discuss challenges and emerging priorities. As a supporter of this conference, HIROC encourages its Subscribers and partners to be a part of the conversation. To learn more about this year's event, we connected with Emily Gruenwoldt Carkner, President and CEO of Children's Healthcare Canada. 
Register for the CHC Conference
This year's conference theme is The Next Chapter for Children's Healthcare. How was the theme chosen, and why?
Emily Gruenwoldt Carkner: The COVID pandemic has had a profound impact on the health and wellbeing of children, youth and families. Whether mental health and wellness, access to health services, impacts on learning or safety/security, the challenges have been well documented by many children's advocates. Twenty months later, we wanted this event to focus on the future, and to leverage the opportunity to convene members to inspire and mobilize actions that address both long-standing challenges, but also emerging priorities related to children's health. How can we identify and confirm shared priorities, and how can we lean into new partnerships within and beyond health to measurably improve the health of Canada's 8M children and youth.
What are you looking forward to most about this year's conference?
Emily: The chance to convene our members is always a highlight, whether virtually or face-to-face. The passion of our delegates is always on display throughout conference week! As Children's Healthcare Canada evolves, so does the focus of our conversations. This year, perhaps more so than ever before, we are focused on health systems' challenges – whether complex issues that require engagement and collaboration with partners outside the health system, how we begin to measure the effectiveness of our efforts to embed equity, diversity and inclusiveness in our healthcare organizations, or how we solve data gaps to help us plan services, but also advocate for stronger policies and investments. I look forward to learning from our invited guests, family partners, and our members throughout the conference.
There's a very unique art contest attached to this year's event. How did it come to be, and how can the healthcare community participate?
Emily: Our goal was to do something where the healthcare community – that includes patients, their families and support networks – can share their vision for the next chapter. So, we partnered with HIROC to come up with a unique idea of creating commemorative bookmarks.
We're asking anyone to submit artwork, a picture, a poem… the sky's the limit really!
During conference week we will highlight the top five submissions and delegates will vote on the winner.
The winner's concept will live forever on an exclusive bookmark which we'll send to all our members so they can share widely at their organizations and with patients.
So, get creative. We can't wait to see your ideas!!
Learn more about the contest and submit your art.

All submissions must be uploaded before October 15 at 11:59 p.m. ET.