Mobilizing to Mitigate Risk and Improve Communication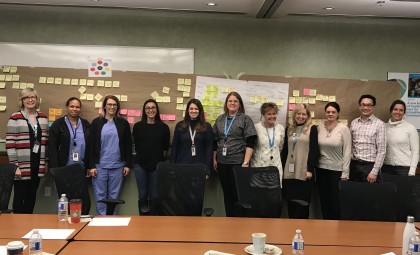 How Trillium Health Partners mapped out a new obstetrics process while improving patient experience
Expectant parents may already be feeling a variety of emotions. If you couple that with the uncertainty that at times comes with navigating the healthcare system, you'll likely see some trends in patient satisfaction.
That's exactly what the team at Trillium Health Partners (THP) saw in the feedback from new parents with respect to admission and communication around the process itself.
THP provides obstetrical care at both the Credit Valley and Mississauga hospital sites. "We saw an opportunity to optimize obstetrical safety and patient flow through implementation of an obstetrical triage acuity scale and quality improvement methodologies to improve care in Birthing Services across our sites," said Cathy Walker, Interim Program Director, Women's and Children's at THP.  
Labour Assessment Units (LAU) have seen increasing volumes and acuity while the physical space remains limited, resulting in extended lengths of stay for both admitted and non-admitted patients.  
Increased triage times create potential safety risks and treatment delays while contributing to a poor patient experience. 
"Some days we'd come in and see that we might have 15 inductions scheduled and then the next day, there would only be three – so we knew that we had to work on level setting to reduce risk while improving communication," added Walker.
The team was routinely fielding calls from patients who felt they were waiting a long time to come in. 
Additionally, they were seeing patterns where patient inductions were being delayed due to capacity constraints. 
Process Mapping an Ideal Future State 
Receiving the 2019/20 HIROC Safety Grant allowed THP to reimagine the system, ensuring consistent communication while maintaining efficient flow. They were able to train staff on a new triage acuity scale that they plan to implement with their soon-to-be-launched new electronic health record system.
"We also completed a process mapping exercise with key stakeholders that came together to envision a patient-centred approach to improve safety, communication and the patient experience. We invited obstetricians, a family physician, a midwife, and nursing and registration staff," said Walker. "Their task was to map out the current process and then a future ideal state – that's how we came up with the solutions."
This work has had a positive impact on safety by decreasing the length of time between booking the induction of labour, initiation of the induction, and delivery. With this change in process there has been a decrease in the number of patients that have come to the LAU while waiting for the initiation of their induction. 
The team has seen a 16.5 per cent decrease in the length of time in the LAU waiting for initiation of their induction and a 12 per cent decrease in the patient's total length of time in the LAU. Time from initiation of labour induction until delivery also decreased by 20 per cent when compared to data prior to this change.    
Instead of limiting patient inductions to a single fixed date, the antenatal care provider now sends the clinical leader a date range.
The clinical leader takes all the necessary information, including the induction booking form, creating a complete package for the nursing team and the on-call obstetrician. "By having all of the information together in one package, it helps ensure there are no gaps or risks when booking the induction date," said Walker. "From there, we look at the planned care for an entire week and map out the schedule accordingly, ensuring there are no induction peaks and valleys and that patient inductions are scheduled considering their individual clinical needs/indications."
Now THP calls the patient to provide additional information prior to their scheduled induction, answer any questions, and clarify if there is any missing information.
"Initiating a call to patients and reviewing their plan of care helps us ensure the patient experience is positive," added Walker.
"Since implementing this new process we haven't had the same high-volume days; we're planning better and we're not having patients wait or be delayed because there are too many booked in one day."
Patient feedback from both the Maternity NRC Picker patient experience scores along with THP Birthing Services real-time surveying, and Leadership Rounding with patients has been utilized to improve the LAU triage and patient-flow processes.
Cathy Walker's advice for other organizations
Incorporate the patient experience through leadership rounding and patient surveying to identify what would be helpful from their perspective. But don't forget about your internal stakeholders too! Ask all staff involved what they see as opportunities.
Engage with your quality and process improvement teams as they likely have a number of tools or resources to help when developing solutions. At THP, the process mapping exercise was a huge win, bringing together various voices to uncover the future ideal state.
Walker stressed that driving improvement is also about sharing knowledge. "We are so grateful to HIROC for the grant program and we're happy to chat with other Subscribers as they think about applying for a future grant or want to initiate a quality improvement or patient experience project to improve care."
By Philip De Souza, Director, Communications & Marketing, HIROC
---
This story was originally published with a collection of safety grants stories in the The HIROC Connection, Fall 2020