McMaster Children's Hospital Celebrates Five Years of SPS Membership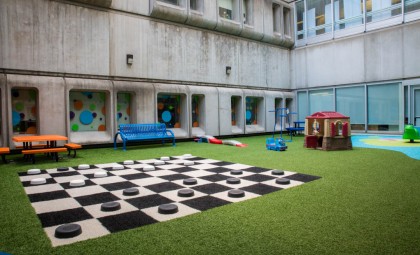 Thank you to the team at Hamilton Health Sciences for sharing this safety story with us. If your organization has a story, reach us at communications@hiroc.com. Through sharing and scaling lessons learned, together we can create the safest healthcare system.
At Hamilton Health Sciences (HHS), patient safety is the top priority.
Quality improvement is more than a plan on paper – it's engrained in the way HHS team members work. At every level and in each corner of the organization, staff and physicians are engaged in activities aimed at improving the way they provide care and manage operations.
A big part of that commitment is routinely monitoring, tracking and reporting hospital-acquired infection rates. Hospital-acquired infections are spread through bacteria and viruses. These same bacteria and viruses can also be found in the community.
Measuring HHS' performance against provincial and national benchmarks is an important part of this continuous quality improvement journey.
By tracking infection rates, HHS can identify where issues exist and take the necessary measures to improve.
Children's Hospitals' Solutions for Patient Safety (SPS)
The HHS McMaster Children's Hospital (MCH) is entering its fifth year of membership in Solutions for Patient Safety (SPS), a partnership of over 145-plus children's hospitals across North America that work towards a goal of zero harm. To do this, the network shares data and benchmarks to track progress over time.
"SPS has been the framework and partnership that has led the children's hospital to significant reductions in many of our most serious hospital harms," says Denise Johnson, senior manager of patient safety at HHS.
"SPS provides a lot of tools to help you learn, and then teach others."
Powering Change with Data
"As part of SPS, MCH submits data and also receives data back in the form of graphs that benchmark us against our comparators and help us track progress over time," says Johnson.
The organization also hosts monthly meetings for various harms they are focusing on.
Once a month, MCH has a data huddle to review the data slideshow and keep patient safety top of mind. These huddles are attended by leaders across the children's hospital, educators, safety coaches, and more – everyone is welcome.
"When we learn best practices from SPS, we process observe our practices and ensure we're following and tracking the items."
Making Progress
MCH is seeing huge improvements.
It has been five months with no CLABSI MBIs, a type of central line associated blood stream infection in patients with mucosal barrier injuries.
"One patient was treated on the hemotology/oncology ward and experienced a CLABSI, and their mom shared photos with us to allow us to make our training more real and patient centric," remembers patient safety specialist Wendy Seidlitz. "These real patient stories give staff the motivation to improve and strive for zero."
In the first year of SPS, MCH avoided 26 moderate or severe harms. This number jumped to 53 in year two. Over the five year period, 122 harms in total were prevented.
"We're seeing less and less serious safety events and we're having more time between each safety event," says Johnson. "Our record is 188 days harm-free."
One of the goals MCH chose this year was reducing urinary catheter associated UTIs because that is a metric the hospital wants to move. "We have implemented a bundle of care and have seen some improvement but our rates still fluctuate", says Johnson. "We believe that we have opportunity to improve this metric even further and drive this number to zero."
Plus, with HHS' new Epic hospital information system launching in June, there will be more opportunities for improvement.
"We certainly hope that Epic and SPS will be good partners," says Johnson. "One of the harms we frequently see is medication errors and Epic has some tools to help us avoid this. There will also be information built right into the Epic system on hospital best practices."
Culture Change
The SPS member hospitals go through the same training to start, and then the emphasis switches towards fostering a culture that believes achieving a zero harm environment is possible – then, teams work to make it happen.
For example, there are some neonatal intensive care units in the United States that have gone more than two years without a central line infection. Knowing this gives teams motivation that zero infections is possible.
Central line associated blood stream infections can lead to serious complications. Fortunately, such infections are rare and they are preventable. Central lines are a bit like an intravenous (IV) line but they are much longer than a regular IV and go all the way up to a vein near the heart. Patients get large amounts of medicine, fluids, blood or nutrition through a central line that would not be able to be delivered through a regular IV. 
"The most important piece is the culture/behavior change," says Johnson. "All of our staff go through error prevention training where we learn tools to help prevent errors, like communication techniques, having safety champions on every unit, and having leaders involved in a daily safety brief. But it's believing that these stats are possible that really makes the difference."
Having this attitude engrained in staff culture is key. "At night when no one is looking, when things are tough, when you're short staffed, that culture of patient safety still holds value."
The team also relies on nurses to encourage families to be active caregivers and remind nurses about things like checking lines and tubes. "We encourage families to work with us on the bedside perspective."  
"We learn from adverse events – and near missed events where something could have happened but it was caught," says Johnson. "Every event, no matter how big or small, is taken very seriously."
Amanda Stancati is Web Content Specialist at Hamilton Health Sciences
If your organization has a story, reach out to us at communications@hiroc.com. Together we can turn the corner on patient safety.