LinkedIn Live: Get Ready for a New Way to Engage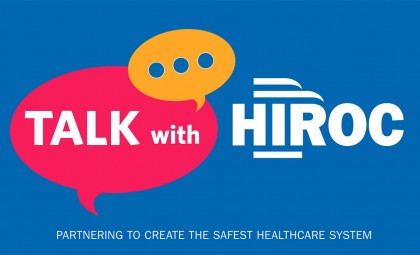 HIROC launches new livestream series on LinkedIn, Talk with HIROC
 
On a daily basis, team HIROC would normally connect in-person with our valued Subscribers, partners, government and pretty much anyone in the healthcare and insurance sectors. Whether it was our very own annual conference or the many other conferences, symposiums, forums and meetings we'd be asked to speak and present at – we were out there connecting with our Subscribers and partners.
However, the current pandemic has halted many of these knowledge-sharing face-to-face connections.
We're also keenly aware of how valuable our Subscribers' time is these days, as many are shifting their operations in a moment's notice between pandemic readiness and normal day-to-day operations.
So, in the spirit of being a proactive and agile organization, we're launching a new live broadcast streaming series called Talk with HIROC on LinkedIn.
With these bursts of conversation, we will beam directly into your day and give you greater access to our expert team and special guests via the LinkedIn platform. Whether you're accessing LinkedIn from your office computer, smartphone or tablet, you'll have access to new HIROC content anywhere and at any time.
We plan on launching two shows under the Talk with HIROC banner:
Talk with HIROC
Talk with HIROC: Board Engagement
Although the Talk with HIROC LinkedIn Live series does not require registration to watch, you will receive reminders before we go live. And if you can't tune in, most episodes will be recorded and saved on our LinkedIn page for your viewing convenience.
Join Us for the Kick-Off 
On August 13 at 2 PM EST we're going live for our first Talk with HIROC, featuring Marlies van Dijk, Lead and Founder of AHS Design Lab. 
Why wait for the 13th? If you're not following HIROC on LinkedIn yet, there's no better time than the present. Once you're following, you'll get updates on upcoming events and other great HIROC content.
Stay tuned for more exciting details on how we'll be engaging with you!