Lessons from Leadership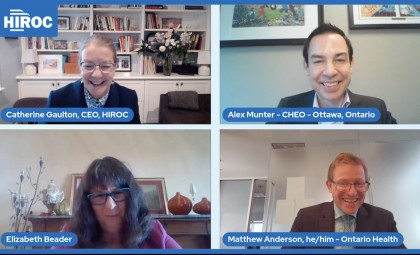 Listening to the unique perspectives from Canada's regions is critical to having a complete picture of our healthcare system.
Through candid discussions between leadership, organizations can gain a better scope of what's happening elsewhere and benefit from the lessons learned, and knowledge shared.
Scaling knowledge across the system is why HIROC began each day at its 2021 conference with a leadership panel. We shone a spotlight on what healthcare leaders are currently paying attention to in Canada's Atlantic, Western, and central regions.
If you registered for this year's HIROC Conference, you still have exclusive access to the session recordings, including the leadership sessions. To watch, sign back into your Hopin account. All sessions are available until January 16, 2022.
During these leadership spotlights, Catherine Gaulton, HIROC's CEO, asked panellists what pandemic-influenced changes they wanted to sustain, and what the most significant risks to our healthcare system are moving forward.
"Although there were many strategical similarities in what leaders said, their differences came from how the pandemic impacted them regionally," said Gaulton. "Subscribers should know that HIROC is here to continue its full support as they navigate this challenging time and move toward recovery."
Here is just a bit of what is currently on their minds…
Collaborative Health Systems
For some healthcare organizations, one of the many positive changes from the pandemic are the new collaborative systems.
"COVID-19 forced us to make decisions at the speed of light," said Dr. Verna Yiu, President and CEO of Alberta Health Services (AHS).
The most significant change Dr. Yiu wants to see sustained at AHS is their 'Learning Health System,' created to improve care through collaboration between the province's care facilities, shared data analysis, testing and implementation.
Matthew Anderson, President and CEO of Ontario Health, was impressed by the collaboration between organizations in Ontario throughout the pandemic and believes it needs to be continued.
Of many things, Anderson spoke about the provincial lab network created to respond to the rapid demand for information. He credits the partnerships, assessment centres, and what he calls the "Unity of purpose" of healthcare staff.
"What I see is an extraordinary collaboration between the provincial health agency and the service delivery organizations," said Mike Nader, President and CEO of the Winnipeg Regional Health Authority. "What I'm hoping to see continue is the level of collaboration."
The Challenge of Health Human Resources
It's no secret that the COVID-19 pandemic has taken an incredible toll on healthcare staff, who have had to endure nearly two years of emergency conditions and extraordinary demands.
Although this gap in personnel is not new to the healthcare system, the pandemic has certainly exacerbated the staffing challenge for leadership and made it a more pronounced quality and safety risk.
"It's not just about if we have enough," said Krista Jangaard, President and CEO of IWK Health Centre in Nova Scotia. "Rather, how do we attract and retain the folks we need on the frontline, in support services, and building our leadership pipeline." 
However, other leaders believe that the solution to this problem could be found by looking to the international healthcare community.
Elizabeth Beader, Vice-Chair of HIROC's Board, believes that international healthcare providers are an untapped source for staffing. Beader was referring to the many clinicians moving to Canada but being forced to start over to get designations, all because of siloing and bureaucracy.
"There are a lot of ways to do this differently. Let us use the resources that are right there dying on the vine," adds Beader.
A Focus on Mental Health
According to Scott Livingstone, former CEO of the Saskatchewan Health Authority, a proper pandemic recovery plan must focus on the mental health of staff, their patients, and their families.
"Many holes in our existing system came to light due to the pandemic, including mental health and addiction," said Livingstone.
Livingstone believes by expanding mental health and wellness programs, leaders will be able to address burnout and fatigue, as well as its long-lasting, compounding effects.
David Diamond, President and CEO of Eastern Health, also emphasized that healthcare organizations need to ramp up their support, and larger investments must be made for mental health programming, including developing a rapid response to PTSD and other counselling resources.
Since mental health and addiction issues disproportionately impact underserved populations, Ontario Health's Matthew Anderson also agrees with taking this holistic approach to address the fallout caused by the pandemic. Anderson added that we would need better data reporting and a clear path for equity impact.
"For me, the call to action is around mental health and addictions," says Anderson. "It's underfunded, but we need to move in a cohesive way forward."
---
As a reminder, if you registered for the conference and wanted to watch the full recordings from these exclusive leadership sessions, you can do so until January 16, 2022. To watch, sign back into your Hopin account.
By Marc Aiello, Communications and Marketing Coordinator