Launch of LinkedIn Live Series Gets People Talking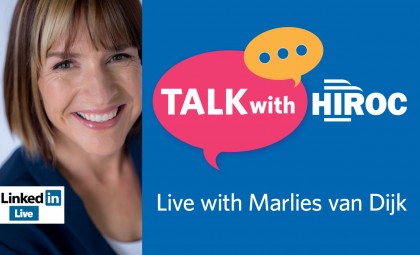 Talk with HIROC – a new innovative and live streaming series hosted via HIROC's LinkedIn page made its debut late this summer. To kick off the series, HIROC was fortunate to tap into the expertise of a true healthcare maverick.
Marlies van Dijk, Lead and Founder of the AHS Design Lab shared a number of valuable lessons.
Marlies and her team believe that the biggest opportunities to transform healthcare is not within strategies or processes, but mindsets. 
Missed the talk? Watch it now!
AHS Design Lab uses design thinking as a core foundation by tapping into abilities and viewpoints that are often overlooked by more conventional problem-solving practices. Her team recognizes patterns to help groups come up with user-focused ideas. They use design thinking to kick start meaningful discussions, breathe life into structure, and develop solutions using human-centred design. 
Marlies' Design lab doesn't stop there – through education, they also offer courses that harness design thinking into tools like sprints, scrums and liberating structures.
During the series premiere, Marlies was asked, "What keeps you personally energized and motivated?" 
"I have an unrelenting pursuit for breaking the status quo – I'm never satisfied," she said. "I have to balance being positive and hopeful, but also not being happy with what's currently happening – that's a huge driver for me," she added.
Here are some key insights from the talk
Three things Marlies suggests to initiate and maintain momentum around innovation
Find your wolf pack: These can be people both inside and outside your organization – trusted voices that will help offer advice and guidance.
She personally tries not to lead with design thinking, rather, conveying how she and her team are at the ready to help solve problems with practicality and adding value. She also suggests avoiding using jargon that could push people away. "It's all about the human touch, so we use language that's relatable and accessible – we don't want to alienate people."
Energy is key: "I make it a point to ensure people feel positive energy throughout the process, that they feel we're being helpful, but most importantly, that they feel that ambition."
On how she maintains energy and focus
"I pause and take a 30,000-foot perspective and ask where are we, where are we going, what is not happening now that we can add value and fill the gap, what's important for the patient and clients."
How Marlies deals with being stuck
"When I'm stuck, I reach out to my team to get a different perspective – I never work alone."
Did you know that you can watch more unique episodes at any time?
From the time we aired our first episode with Marlies, there have been eight more episodes.
Each insightfully informative episode, resembling an intimate chat just for our followers, is a burst of conversation that gives you even greater access to our expert team and special guests via the LinkedIn platform.
Some of the topics we've featured include:
Innovation
Insurance
Human factors
Claims and legal perspective
Communications and media relations
Truly something for all of our viewers – and we're excited to bring you more unique topics and engaging guests over the coming weeks. 
HIROC strives to convey how together we are working collectively to turn the corner on patient safety, be visible through our Service First mentality and of course share how we're driving innovation and agility in this very important community-building initiative on LinkedIn. 
Whether you are accessing LinkedIn from your computer, smartphone or tablet, you'll have access to new HIROC content anywhere and at any time.
Stay informed by subscribing to our LinkedIn page. You will not only be kept up to date on new and informative Talk with HIROC episodes, but you'll also have the opportunity to listen, learn and hopefully scale knowledge – all with the goal of collectively turning the corner on patient safety.
By Marco Ouji, Senior Communications Specialist, HIROC