Lakeridge Health Receives National Award for Excellence in Surgical Care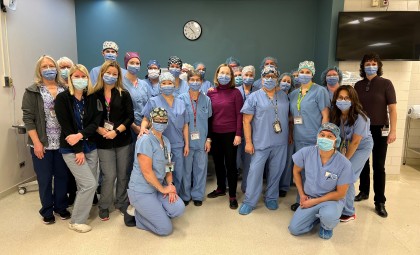 Congratulations to Lakeridge Health for this accomplishment. If your organization has a story, reach us at communications@hiroc.com. Through sharing and scaling lessons learned, together we can create the safest healthcare system.
The American College of Surgeons National Surgical Quality Improvement Program (ACS NSQIP) has recognized Lakeridge Health as one of only 78 hospitals in North America to have achieved the "Meritorious" status for surgical patient care.
"We are very proud to be part of a select group of hospitals to receive this recognition," said Dr. John Dickie, Chief of Surgery, Lakeridge Health. "Our teams embrace a culture of safety and continuous quality improvement. This award acknowledges our unrelenting desire to ensure patients receive the highest quality of care and best experience."
"We are honoured to receive this prestigious award," said Heather Lithgow, Director of Surgical Services, Lakeridge Health. 

"To obtain this level of excellence requires tremendous collaboration and partnership from all members of the patient care team. This award reflects Lakeridge Health's continuous dedication and commitment to providing the highest quality of surgical care for patients."
As a participant of the ACS NSQIP, Lakeridge Health collects data related to patient safety and tracks the outcomes of inpatient and outpatient surgical procedures.
"Collecting this data and measuring our progress enables Lakeridge Health's surgical teams to identify areas for improvement and put action plans in place," said Dr. Julia Jones, Surgeon, Lakeridge Health. "Through this evidence-based, quality improvement approach, we are making surgery safer by reducing negative outcomes, including deaths, complications, and infections or illness related to surgery."
The ACS NSQIP is the only nationally validated quality improvement program that measures and enhances the care of surgical patients. For patients, this comprehensive, quality-driven approach to surgical care not only means the reduced potential for hospital readmission and decreased length of stay, but also higher patient satisfaction and better outcomes.
"We are extremely proud of Lakeridge Health's surgical teams," said Cynthia Davis, President and CEO, Lakeridge Health. "This commitment to a rigorous approach to quality improvement not only results in higher patient satisfaction and better outcomes for patients, but also fosters a more sustainable system that makes the best use of limited health-care dollars. The collaborative efforts of our clinical teams are contributing to our vision of One System. Best Health and exemplify Lakeridge Health focus on excellence, every day."
If your organization has a story, reach out to us at communications@hiroc.com. Together we can turn the corner on patient safety.