On a Journey to Make an Impact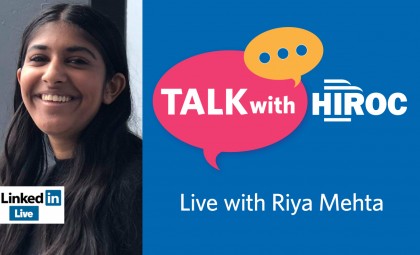 Riya Mehta shares her story on Talk with HIROC
HIROC sat down with Riya Mehta to learn how she's made incredible contributions to the healthcare sector – and she's only 17 years old. 
Missed the talk? Watch it now!
Here are some highlights from her incredible story.  
1) Her official entry into healthcare came through her getting accepted as a co-op student at Sickkids.
"Having the privilege to shadow a physician researcher really solidified what I knew I wanted to do," said the 17-year old student. "Witnessing firsthand the impact healthcare professionals have on patients and their families was an emotional moment for me."
Riya stressed how she values the connections made with patients.
2) Publishing work isn't as easy as it sounds.
"The whole process of publishing work was an eye-opening experience and I'm glad I had mentors guiding me along the way."
But it was self-awareness that got Riya through it all, "I realized I had to take a step back and really learn how to learn."
3) How you train is how you perform.
Riya's time with the Knowledge Society has helped her learn the fundamentals of absorbing knowledge and then, like an Olympic athlete, flexing those muscles and practicing, practicing, practicing to find solutions.
4) Sometimes the best things come from failure
"My co-founder of Futureshot Academy and I both faced failure in a competition, but we asked ourselves, how can we turn this into a learning experience? And from there we started something special and have big hopes to support and guide an incubator model for other youth projects."
5) Advice for anyone:
Find a mentor: they will help you overcome hurdles and hold you accountable
Be patient: healthcare can sometimes be slow to adopt newness, remain focused, learn and grow with it.
To watch the full version of our talk with Riya Mehta head on over to HIROC's LinkedIn Page.
Don't forget to follow us on LinkedIn and turn notifications on to catch Talk with HIROC every week on LinkedIn Live.
 
By Philip De Souza, Director, Communications & Marketing, HIROC