Join a Virtual Tour of FM Global's Research Campus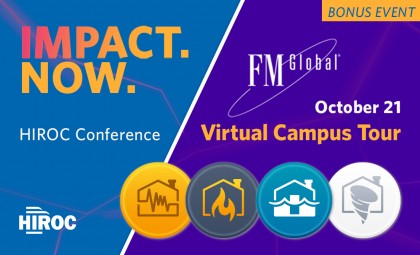 On October 21, as a bonus event to the 2021 HIROC Conference, Subscribers have the opportunity to attend a virtual tour of the FM Global Research Campus, located in West Glocester, Rhode Island, USA.
Subscribers can sign-up for the virtual tour while registering for the HIROC Conference. Both the conference and FM Global event are complimentary and exclusively for HIROC Subscribers.   
---
We caught up with Jean Asuncion, Engineering Liaison Associate at HIROC, and Shiva Nourmansouri, Account Engineer with FM Global to learn more.
When and where is the virtual tour taking place?
Shiva: The tour will be held on October 21 from 11 a.m. to 12:30 p.m. ET. When Subscribers register for the HIROC Conference they will be asked if they are interested in attending this bonus event. Those who select yes will be receiving more information, and a special link to join the virtual meeting closer to the event date.
Jean: In past years HIROC has partnered with FM Global to run in-person tours, showing small groups of our Subscribers their unique training and testing facilities. This is the first time we've held it virtually as an add-on to the HIROC Conference. An obvious benefit is that it means we can bring it to many more Subscribers this year. We know that simulation of floods, fires and other major disasters really does breed innovation, so we can't wait to see how our Subscribers use what they learn on the tour to drive safety at their own organizations. 
Tell us a bit more about the campus in Rhode Island and what Subscribers will learn.
Shiva: As Jean mentioned, the research campus is the ultimate center for scientific research and product testing relating to property loss prevention. There truly is nowhere else in the world like it. This is the basis of FM Global's property loss prevention guidance that helps many different industries understand how to prevent catastrophic events from impacting their operations. Our goal is to develop viable solutions for our clients so they can protect their assets and stay operational; ensuring our clients remain resilient against property losses. 
At the research campus, scientists and loss prevention engineers work in four main laboratories: Fire Technology, Fire Protection, Natural Hazards, and Electrical Hazards. The campus also houses a remote testing area, where state-of-the-art explosion hazard research is conducted, and an explosion bunker specifically designed to help visitors understand the damaging effects of combustible dust. 
Yes, we've heard FM Global is big on simulation of things like floods and fires. Can you give us a sneak peek at what will take place during the tour?
Shiva: Yes, you'll get to virtually visit the labs mentioned above. We'll go through our small and large-scale fire testing and how we test what we often see at our clients' facilities against the automatic sprinkler protection they have installed. This helps us work with our clients to determine engineering solutions for their fire protection needs. The Natural Hazards lab will take you through studying the effects that wind storms, floods, and earthquakes have on the structural integrity of your buildings. We go through how to design and install building materials to protect against natural hazards.
Here are a few videos to give you a better idea of what you might see:
Who from my organization should attend? 
Jean: Any individual involved in property risk management, from your corporate office to local on-site personnel. Leadership teams are also encouraged to attend.
Register now for the 2021 HIROC Conference and the FM Global event. 
If you have questions about the virtual tour or HIROC's partnership with FM Global, reach out to Jean at jasuncion@hiroc.com. 
---
HIROC is a one-stop shop for all your insurance needs, including property and other non-liability coverage. If you'd like more information on coverage, contact us at inquiries@hiroc.com or request a quote.