It's Not Your Ordinary Year, This Is Not Your Ordinary Message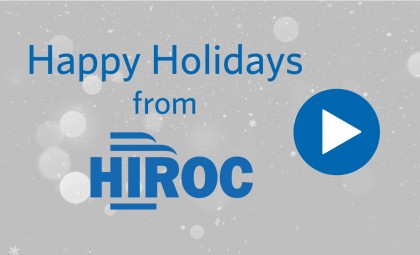 A Special Holiday Message from Our CEO, Catherine Gaulton
We, who operate at a distance from the frontline of healthcare can only imagine how you and your teams are feeling right now. 
Knowing that you and your teams are all there for us is a great source of comfort and support. 
So, our message this year will not focus on the many challenges and hurdles that 2020 has thrown in our path, but will rather centre on our deep gratitude and appreciation to you.
We at HIROC are truly very fortunate to partner with you, our Subscribers, and to have the opportunity to support you, in any small way we can. 
We know that it is our job to decrease or eliminate, if possible, the number of insurance and risk management issues that you have on your plate – all so that you can continue providing amazing, high quality care to your patients, clients, their families, and all Canadians.
Our mandate as a Reciprocal is to serve you, support you, and stand with you – as your partner in safety.
In service to your needs, I'm happy to report that the benefits of the Reciprocal model and HIROC specifically, were demonstrated this year. We are committed to and we believe we have met, not only the needs of our Subscribers, but at times, also of those who are not Subscribers. This is appropriate and entirely consistent with HIROC's vision in action, partnering to create the safest healthcare system. 
At the start of this year, I wrote to you and shared our ambitious new strategic plan. HIROC's team hasn't skipped a beat on delivering on that promise, primarily because pursuing our strategic plan was key to responding to Subscribers needs during this pandemic. 
I'm beyond proud of our team and I am confident that together, we will collectively turn the corner on patient safety. 
We look forward to sharing more details of our progress with you and are eager to hear how we can continue to evolve to meet your needs.
But until then, on behalf of the entire team at HIROC and our dedicated Board of Directors, I wish everyone all the best this holiday season and a Happy New Year!
I thought I'd close off by placing the words of some of our Subscribers in the spotlight.
These quotes, from our podcast Healthcare Change Makers, signal the tight-knit community we have in healthcare and it's abundantly clear how resilient, supportive and resourceful you all are. 
Thank you for inspiring us!
Catherine Gaulton
CEO, HIROC
"I'm very pleased with the resiliency of the teams to support one another… To me that's when healthcare and healthcare teams are at their very best - when they're lifting one another up."- Dr. Andy Smith, Sunnybrook Health Sciences Centre
"In this pandemic, there's this beautiful, big spotlight that's shining on the staff that's here. And I really think that this, this has shown me who the staff are at their core, and it really has magnified my consciousness of how the staff in this building live the mission of the Sisters. I'm honored that I am part of the team that is so dedicated to the people in our care." – Krystal Mack, Providence Manor
"Just seeing and hearing the people that I work with every day makes me proud. The thirst and the hunger they have for their job and the compassion and passion that they have to do this work is inspiring and keeps me going every day. We love the work that we do. It's necessary, fulfilling and challenging. And so just the fact that everybody is here, ready to dig in, ready to help, ready to ask what needs to be done, makes me incredibly proud of the people that I get to work with." – Lori Zillman, Registered Nurse, Alberta Health Services
"Oftentimes we're the one person who the pregnant person is still in contact with beyond their immediate family, I think this is really hard on our clients. As midwives we really mobilized to ensure our clients are staying safe, to try to figure out how to still provide the midwifery care that we know and love and that our clients need while also keeping everybody safe." – Claire Dion Fletcher, Registered Midwife & National Aboriginal Council of Midwives Co-Chair
"There has been so much uncertainty throughout the course of the pandemic. Despite the challenges, COVID has ignited a renewed sense of purpose and motivation amongst the Children's Healthcare Canada team. It has reminded us what we're all here to do, which is support our members to deliver safe and effective care for kids, and make sure children are not left behind – in the context of pandemic recovery, or beyond." – Emily Gruenwoldt, Children's Healthcare Canada
Check out our Talk with HIROC Season Finale with Catherine Gaulton