It Takes a Community: What the Reciprocal Model is all About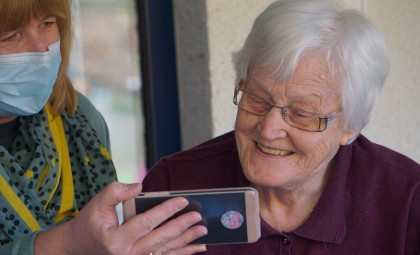 Over the course of this pandemic, we have been reminded of why the reciprocal model works, and why HIROC was created over 30-years ago.
HIROC's Subscribers provide care across the entire spectrum of healthcare – hospitals, midwives, long-term care, primary care, professional associations, and others. HIROC serves and is able to provide counsel and advice to all Subscribers, ensuring that all of you are supported.
We've also heard how many HIROC Subscribers have been leaning on each other during this time, sharing best practices as well as valuable information that ensures those you serve receive the safest care possible.
"We are grateful for HIROC's support," said Carolyn Zacharuk, Executive Director at Fairvern Nursing Home in Huntsville. "Whether it's presentations to our Board providing education on coverage, or the review of risks – we value the open dialogue we have with HIROC."
"Reaching out to HIROC is something we do with ease. Their responsiveness and insight on a variety of issues, such as reviewing agreements, helps our team make the right decisions," Zacharuk added. 
Zacharuk's thoughts are echoed by other Subscribers. "As a long-term care Subscriber, we know we can pick up the phone and speak to an expert about a current barrier, and together identify a solution to our problem," said Cathy Szabo, President and CEO at Providence Care in Kingston, Ontario. "Through the exclusive Q&As or the one-on-one support, it's nice to know we have that protection," she added.
Coverage for new partnerships
With all hands on deck as it relates to providing care to the public, we often get asked, 'Does the HIROC policy provide coverage when it comes to the new partnerships which are required to treat and control COVID-19?' The answer is yes.  As your insurer and advisor – we are here for you!
Collaboration in action
During this crisis, we're also keenly aware of how critical it is for HIROC's coverage to respond to situations where our roles and responsibilities overlap. We know that in these situations you are working together for the benefit of those we all collectively serve – our patients, clients and our community. This, and the work required to control this pandemic, is what unites us. 
"No one can manage COVID-19 alone," says Szabo. When it comes to working together as a team in healthcare, it involves all staff and partners. 
As you strike up new partnerships or as you provide care generally, HIROC is available to assist and we encourage you to contact us. Please contact our Director of Insurance Services, Shahbaz Haque at shaque@hiroc.com or our risk management team at riskmanagement@hiroc.com.
As your trusted healthcare safety advisor, we are here to assist you in making decisions. 
Catherine Gaulton
Chief Executive Officer