Inspire a Culture of Belonging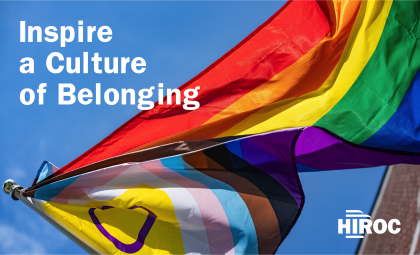 This Pride Season, HIROC is encouraging all its staff and Subscribers to renew their commitment to inclusivity and continue to inspire a culture of belonging in their organizations.
The start of June marks the beginning of Pride Season – a time for all of us to come together and honour the remarkable contributions of our 2SLGBTQI+ community and recognize their ongoing journey toward equality and inclusion.
While reflecting on this year's Pride Season in particular, I am reminded that although a lot of progress has been made in our society, there is still much work to be done.
Pride Season is not only about celebration; it's also about doing all we can to ensure equality and inclusion. And at HIROC, we will continue to support initiatives that advance equality and create a more inclusive workspace for everyone.
That's why I encourage all our staff to be an ally, and all corporations inspire a culture of belonging within their organizations. Engage in those important conversations. Lend an ear to 2SLGBTQI+ voices, listen with empathy, and continue to amplify their stories for all to hear.
It's only through awareness and education that we may learn to have a better understanding of one another, defeat harmful stereotypes, and foster an inclusive and diverse healthcare system that's accessible to anyone from any walk of life.
Have a safe and happy Pride!
Catherine Gaulton
CEO, HIROC