Implementing moreOB Across the Province of Saskatchewan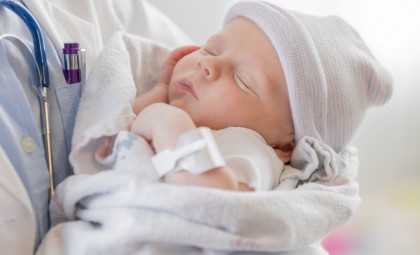 Standardized education for maternal services at the Saskatchewan Health Authority 
The HIROC Safety Grants 2020 program is now accepting applications until September 30, 2020. Apply for a safety grant today! 
In 2018, the Maternal and Children's Provincial Programs team conducted an environmental scan of 36 Saskatchewan Health Authority (SHA) sites. This was a valuable opportunity to hear from frontline physicians and staff, and to follow up with requests for standardized education around maternal services. That's where moreOB came in.
As part of a number of initiatives related to the returning and stabilizing birth strategy at the SHA, the goal was to onboard 17 sites to the moreOB program, ensuring a province-wide standard of care. 
moreOB – run by Salus Global – is a program that helps teams provide the best care for mothers and their newborns. Salus Global works with healthcare organizations to empower team members, prioritizing safety and open communication. 
In support of this work around patient safety, the SHA was one of five Subscribers to receive a HIROC Safety Grant in 2019/20.
SHA's birth sites include rural facilities as well as large hospitals – organizations which see varying numbers of births each year. "If you're a site doing less than 200 births a year, it could take years for a provider to get comfortable managing a laboring patient on their own," said Carrie Dornstauder, Executive Director of Maternal and Children's Provincial Programs. Nursing comfort, said Dornstauder, was an important focus.
Dornstauder and her colleagues knew that implementing moreOB was more than just a one-and-done. A provincial approach would build in benchmarks and lessons learned, linking to strategic priorities for the province.
In 2020 the team began orienting several sites with the moreOB program and re-orienting sites that had already been familiar. "The initial rollout was well received," said Leah Thorp, Perinatal Outreach Education Coordinator. Thorp says bringing everyone (including nursing, family medicine, obstetrics, and midwifery) to the table has made a difference and increased collaboration. 
"We need common ground from which to build a true, collaborative, interprovincial framework that supports smaller centres, especially midwives and family physicians," said Dr. Joanne Sivertson, Interim Provincial Department Head of Obstetrics and Gynecology. 
Dornstauder says she received a call from a physician shortly after announcing the program. "It's the first time that I finally felt heard," the physician told her. This confirmed how important of a step forward this was for the organization.
Just as the project was gaining momentum, COVID-19 hit. While SHA's main focus has been on managing the pandemic, they are now coming back to the table to continue rolling out moreOB across the province.    
"The pandemic has been a great learning opportunity for us to come together in a very short amount of time and gain some knowledge about site challenges and struggles, while being able to do that in a virtual fashion," said Thorp.
Working with Partners 
Developing the moreOB program for Saskatchewan has led to a strong partnership with Salus Global. Because sites like Saskatoon had done some work with moreOB in the past, Dornstauder says it was helpful to leverage those experiences when building out how the program and the partnership with Salus would look today.
Salus Global has also been incredibly supportive since the start of the pandemic in working with the SHA to develop a digital platform to help continue the rollout, functioning in conjunction with in-person education. 
Because of previous experience in acute care with Heartland Health Region, Dornstauder learned a lot about risk factors for obstetrics and how HIROC can support as a valued partner in safety. 
Another partner in launching moreOB across the province has been SHA's leadership, who have been heavily invested in strengthening the provincial Moms and Kids Health Saskatchewan program. "We have had great support along the way from our senior leaders," said Thorp. 
Advice for Others
Aside from working closely with partners, when asked what advice the SHA has for other organizations and health authorities looking to roll out a program like moreOB, Thorp spoke about point of care. 
"The people who are on the ground doing the work are acutely aware of the safety risks and have great solutions," said Thorp. She added that ensuring provincial standards can be delivered in a local way that has meaning for patients and families is critical. 
Building in family involvement is also important. SHA has done that through patient and family advisors at the local level, as well as through patient satisfaction surveys. 
A Consistent Approach 
In speaking about the project, Dornstauder, Thorp, and Dr. Sivertson spoke highly of the evidence around consistency to improve safety and quality. 
"In having a common language, a common approach, and skills consistent throughout the province,  I have no doubt that in adopting this, embracing it, and rolling it out well that we will see patient care, provider satisfaction, and quality improve," said Dornstauder with pride. 
By Michelle Holden, Lead, Communications & Marketing, HIROC
---
This story was originally published with a collection of safety grants stories in the The HIROC Connection, Fall 2020.