Ideation Success at First Ever HIROC Hackathon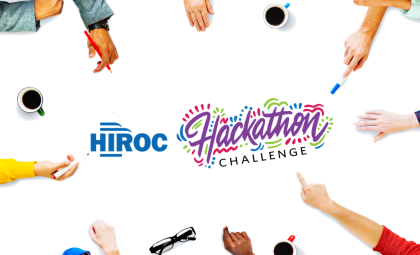 Creating a Space to Connect, Talk, and Share Solutions
This year's HIROC Conference featured something totally new – a hackathon.
A hackathon is a method of engaging in rapid and collaborative groupwork around a central theme or problem. The concept was born out of the tech industry but is now used widely to spur innovation across all types of industries. 
We purposely created space on this year's conference agenda to bring together individuals from across Canada to talk through a common problem. We would work together as a group to come up with possible solutions.
To kick off the Hackathon, our Subscribers shared some of the problems they're facing.
From there we landed on: How might we create a standardized practice for storage of patient belongings?
What resulted was 60 minutes of focused and purposeful ideation. But more importantly, the hackathon allowed individuals to make new connections and hear about best practices from other jurisdictions.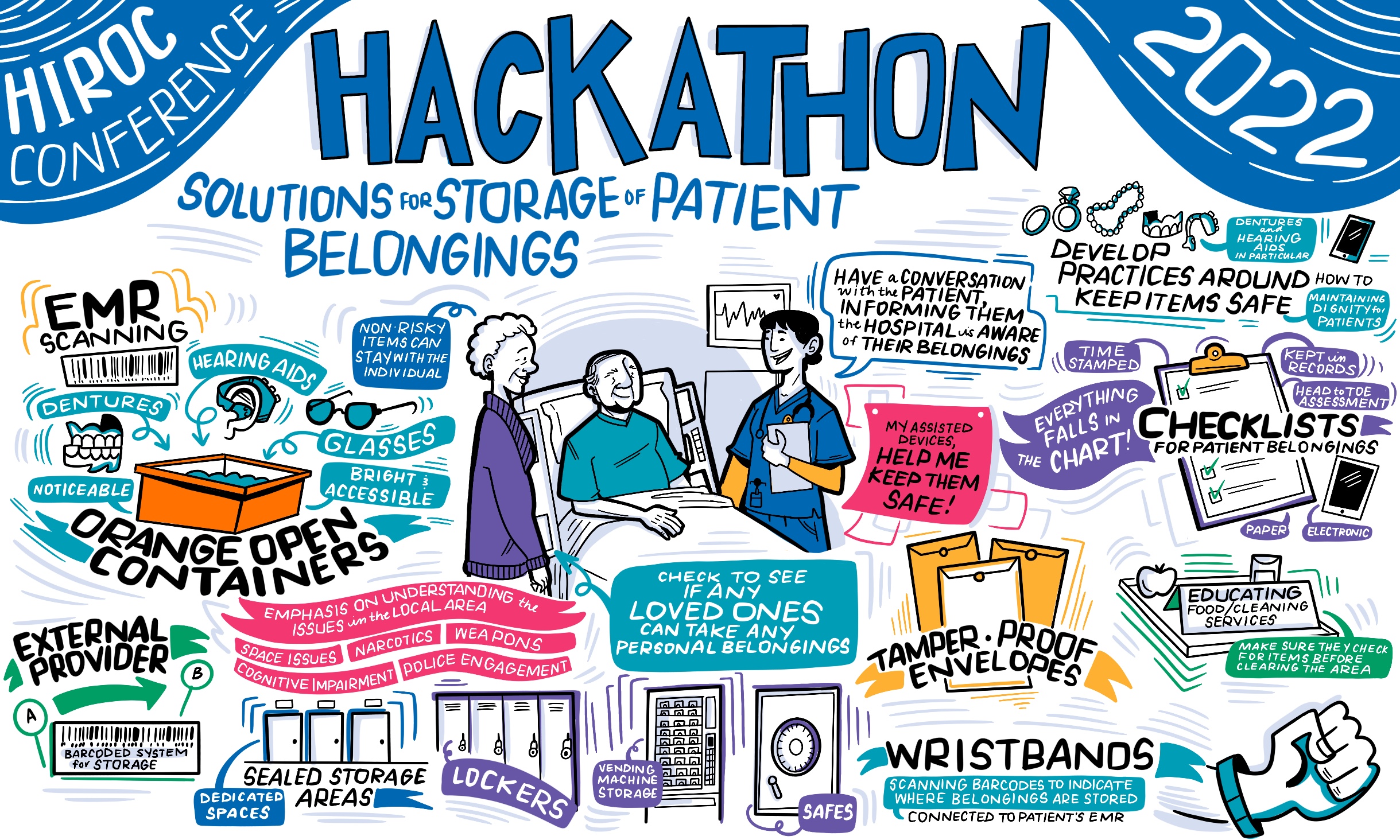 To target the risk of storing patient belongings, here are some of the solutions groups came up with:
A mechanism utilizing the patient wristband and the organization's Electronic Medical Record (EMR) 

Patient belongings would be tracked via a wristband barcode (connected to the EMR). Belongings would be stored in a locked space.
When the patient is discharged, the barcode is scanned. The items are retrieved from a belongings box or central storage space.
One participant referred to it as, "A fancy coat check".

 An open orange container with specific spots for glasses, hearing aids, dentures, etc.

The orange container would stay with the patient – at the bedside (or on the floor with appropriate signage).
Even if the patient is confused, they'll notice the big bright orange container.
Signage and communication would encourage the patient not to put their belongings in napkins or on a meal tray, but rather in the container for safe keeping.

 A checklist connected to a patient's EMR 

The care team would check off things that the patient comes in with.
This checklist would live on the patient's record.
It would be time-stamped so you would know when the item was last seen.
A belongings checklist would become part of the "head-to-toe" assessment.
It would facilitate a conversation between the patient, their family, and the staff. Ensures transparency – all parties are aware of what the patient brought in.

Awareness campaign targeting food services or cleaning staff

Patients often leave small belongings, such as hearing aids or dentures, wrapped in Kleenex or on their food tray. 
This awareness campaign would prompt staff who are clearing food trays or changing bedding to check for such belongings.
A sign could be placed on the meal tray as a reminder – "Any patient belongings?" – ensuring a transparent mitigation process.

Awareness campaign targeting patients, their families, and caregivers

A bright pink sign or poster would be added to the bedside if a patient wants to make staff aware of their belongings.
For example, patients/families could request a sign saying: "I have assisted devices, please help me keep them safe."
The sign would indicate the type of belonging: upper or lower dentures, glasses, hearing aids, etc.

The creation of a vending-machine style storage unit 

The units would be overseen by the organization.
A unit would be placed on every floor.
It could resemble something similar to a device charging station, with secure pods that lock items. 
A huge THANK YOU to the individuals who participated in our first ever HIROC Hackathon! We love the ideas that were shared. Maybe one, or several, of the above solutions would work at your organization – maybe they already are. 
So now, we're putting it back to the healthcare community…
Has your organization implemented something similar? If so, we would love to hear from you!
At HIROC, our aim is to share knowledge across the system, all with the goal of seeing lessons learned scaled and implemented. You can reach us at communications@hiroc.com. 
---
HIROC Conference on Replay
Don't forget, if you registered for the 2022 HIROC Conference but were unable to attend, you have access to most session recordings until January 2023.
Simply grab the link from the email we sent you the morning of the conference, log in, and select Replay in the tab on the left. 
We'll also be pulling some top takeaways over the weeks and months to come, so keep your eyes on our HIROC Insider newsletter and the News section of our website. 
Together we can turn the corner on patient safety.