HIROC wins Best Digital Workplace award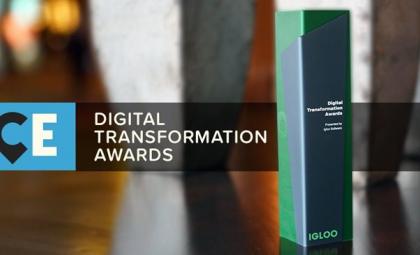 IGLOO SOFTWARE HONOURS HIROC'S EMPLOYEE-FOCUSED DIGITAL COMMUNITY
Thursday, September 20, 2018 – HIROC News
On September 13, HIROC's internal digital workplace was honoured with a Digital Transformation Award, presented by Igloo Software. Known to staff as 'My HIROC' the site acts as more than just an intranet, it's truly a space for employees to collaborate and stay connected to the organization.

With more than 70 nominees from across North America, My HIROC took home an award for Best Overall Digital Workplace alongside organizations like Hulu and Partners HealthCare.

While HIROC staff were ecstatic about the award, we knew we couldn't keep the achievement to ourselves. To learn more, we connected with Michelle Holden, HIROC's Communications and Marketing Specialist, who was on hand to accept the award at Igloo's annual ICE conference.

HIROC News: Why do you think My HIROC was chosen? What makes it special?
Michelle: Our focus with My HIROC has always been to improve how staff work, streamlining processes and making it easier to access information. Since we launched My HIROC in 2016, we've seen a major boost in active users and received a lot of great feedback from staff on what we can do to continue to improve. We've also seen some of the ways it has helped staff work more efficiently when off site or working from home. I think this growth, and our drive to keep the site as dynamic as possible, was part of the reason we received the award.

HIROC News: Who contributes to the site?
Michelle: All staff contribute in some form or another. My HIROC is managed by our Communications and Human Resources teams but we don't lock or restrict access for other staff wishing to contribute. Staff post articles, comments, share news and provide feedback to various organization-wide initiatives via My HIROC.

But perhaps one of the biggest drivers for engagement on My HIROC is our leadership team. Our CEO Catherine Gaulton is incredibly supportive and uses the site as a platform to blog and communicate to staff on a regular basis. We also have a blog series hosted by our VPs – they share news from their portfolios but also give us a bit of a glimpse into their lives outside of the office.  

HIROC News: What's next for My HIROC?
Michelle: Igloo Software has a big focus on integrating existing tools and programs into the digital workplace. Along those lines, we'll continue to look for ways we can bring more staff on My HIROC to engage and collaborate in real time, especially when face-to-face may not always be an option.

Our Communications and Marketing Team would like to send a big thank you to Igloo Software for their continued support. This award speaks volumes and really demonstrates the value of keeping employee engagement and communication at the forefront.