HIROC Welcomes Judith Kean to the Leadership Team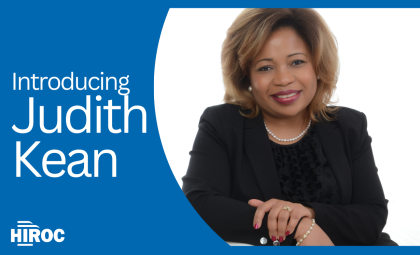 Judith joins as Vice President, Finance 
The HIROC community has appreciated the Reciprocal's solid financial footing and stability over the past 36 years. Judith Kean, leading with Greg King, HIROC's EVP of Finance and Operations, and the whole Finance team, will see that philosophy continue. 
Judith joins HIROC on May 1, 2023, as Vice President, Finance; she brings with her a wealth of expertise.
With 30 years of progressive finance experience, Judith is an accomplished finance leader who holds a Master of Business Administration, a Chartered Professional Accountant (CPA) designation, and is a Fellow with the Association of Chartered Certified Accountants (FCCA).  
Judith has spent the last 13 years in senior management roles at TD Bank Group, most recently as Associate Vice President, TD Insurance, Business Owner IFRS 17. In this role, she led the implementation of IFRS 17 for TD Insurance, which includes its P&C, Life and Reinsurance businesses.  
While at the TD Bank Group, Judith held a number of senior roles within the Wealth segment and Insurance segment, leading various Finance teams and providing financial advisory support to senior leaders – which also gave rise to business and claims transformations, a new claims analytics platform which enabled better performance management, and a reduction in costs leakages. 
"We're delighted to have Judith join us," shared HIROC CEO Catherine Gaulton. "She is an experienced leader with a keen lens on continuous improvement, building efficiencies, and values collaboration." 
"I am interested in the different business model and value proposition that HIROC offers," said Judith. "I appreciate HIROC's vision to partner in creating the safest healthcare system." 
HIROC Subscribers can expect to hear from Judith over the coming weeks and months as she aims to listen to both staff and Subscribers – learning all about the uniqueness of the Reciprocal model.
"After my many discussions with Catherine, I am eager to work with her and the rest of the leadership team to achieve HIROC's strategic priorities. These strategic priorities impact the wider communities, and I am happy to be part of this cause, having a different sense of purpose. I am very excited about this new season that I am entering."
Welcome to the team, Judith!