HIROC Safety Grants in Action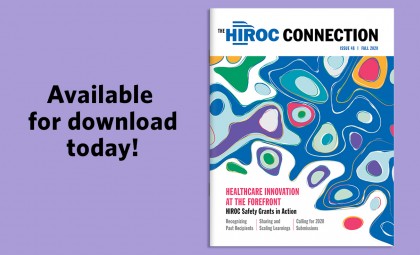 Today, we're proud to unveil a brand new issue of The HIROC Connection magazine. This issue tells the stories of past recipients of HIROC's Safety Grants Program. Download your copy.
Launched in 2018, with funding from the HIROC Foundation, the Safety Grants Program aims to support and promote safety in higher risk areas in healthcare. The release of our magazine coincides with the upcoming launch of the 2020 Safety Grants Program.
In this issue you'll find stories on Subscribers from east to west, profiling eight past recipients and their project successes. These include: 
Bluewater Health
Central Health (Nfld)
Hôpital Montfort
Saskatchewan Health Authority (SHA)
Scarborough Health Network (SHN)
Trillium Health Partners (THP)
VHA Home HealthCare
William Osler
"We're so fortunate at Montfort to have leadership that encourages and values thinking outside the box," said France Morin of Hôpital Montfort. It's these kinds of stories that we're proud to tell at HIROC. Thank you to our Subscribers for sharing their stories and helping to scale learnings around safety to the wider healthcare community.
Driving improvement is about sharing knowledge. As Cathy Walker from THP put it, "We're happy to chat with other Subscribers as they think about applying for a future grant or want to initiate a quality improvement or patient experience project to improve care."
Download your copy of The HIROC Connection. 
Michelle Holden is Lead, Communications and Marketing at HIROC.
---
Learn more about the HIROC Safety Grants Program and stay tuned for the launch of the 2020 application cycle.