HIROC Office Hours: Innovating Risk Integration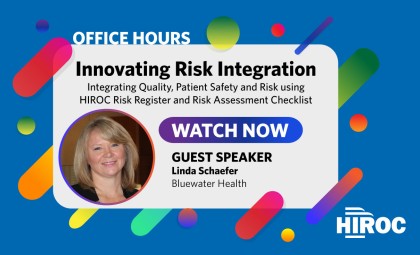 HIROC's ever-popular Office Hours is a virtual space for Subscribers to come together, network, and learn the latest in risk management trends and practices.
At the most recent Office Hours, Linda Schaefer, Manager of Quality and Patient Safety at Bluewater Health, showcased her team's journey in implementing HIROC's IRM Risk Register and Risk Assessment Checklist (RAC) tools, and how they've helped strengthen her organization's patient safety approach.
Schaefer led a step-by-step presentation on what her team did to imbed these new risk initiatives and tools, and the lessons they learned along the way. A recording of the session is now available.
Watch Office Hours: Innovating Risk Integration
Top 3 Ways IRM and RAC Improved Processes at Bluewater Health
Streamlined Risk Work
Risks can sometimes be difficult to properly oversee and classify due to departmental crossover.
At the start of their IRM implementation process, Schaefer's team identified that many of their risks were duplicated – meaning different hospital teams and committees were looking for solutions on the same type of risks while being siloed away from one another.
Recognizing this, Schaefer's team developed a program for optimization, sharing information, and creating efficiencies, which streamlined and standardized work for risk managers and directors. They mapped out their current risk programs and identified the ones that overlapped with one another. A "Priority Matrix" helped them decide which risks were corporate or departmental.
"We wanted to make sure we have visible ownership of a risk by senior leaders to ensure accountability and resources fore effective management," said Schaefer.
Using HIROC's RAC resources, her team was able to then set goals, develop reasonable and evidence-based targets, and decide which hospital resources were required to meet those targets.
Organizational Attention
Schaefer and her team chose a World Café format to bring together Bluewater Health's frontline staff and quality practice committees. This allowed staff from all walks of the organization to come together in smaller groups to collaborate, educate, and have discussions about their top risks, targets, and potential solutions.
According to Schaefer, this method was ideal for raising awareness and connecting staff to Bluewater Health's top organizational risks. It also allowed for the opportunity to inform staff on what HIROC's RAC program is and how it affects their frontline work.
Board Awareness and Education
Using HIROC's IRM Risk Register tool and RAC program, Schaefer and her team created smaller, more concise risk reports for Bluewater Health's executive branch and board members.
These shorter, quarterly reports now include an update on the organization's top three IRM risks, a risk rating, a description of the risks, a heatmap of the other risks, and the latest information on how the organization is addressing trending risks.
"The board is now very clear on the risks, and they can name all 10 of our IRM corporate risks at any time," said Schaefer. "They're more informed, better educated to make decisions, and they can ask concise questions to facilitate a proactive approach to risk."
How HIROC Can Help
HIROC's risk management Office Hours events are exclusive and complimentary for HIROC Subscribers. If you and your team are interested in attending our upcoming Office Hours, registration is now open for June 23 with an Introduction to IRM and July 7 with a Risk Register Demonstration.
Applications are now open for HIROC's Risk Management Residency Program (RMRP), which provides Subscribers with an opportunity to learn from our knowledgeable community of experts. Head over to our RMRP page for more information and to apply now.
If your healthcare organization is currently considering implementing HIROC's IRM Risk Register tool and the RAC program, or if you have any questions about HIROC's risk management resources and methodology, please connect with us at riskmanagement@hiroc.com.