HIROC Named One of Greater Toronto's Top 2022 Employers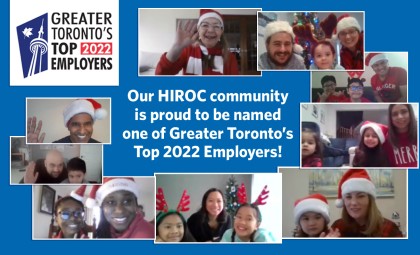 "This recognition as a Top Employer is because of our employees' open feedback, their connection to our vision and strategy, but most importantly, because of their dedication to serving HIROC's valued Subscribers and the whole healthcare system." – Catherine Gaulton, CEO, HIROC
HIROC is honoured to be part of an esteemed group of Greater Toronto Area organizations that have captured the attention of the Globe & Mail and Mediacorp this year. Announced on December 3, HIROC is joined by many of its Subscribers and partners as GTA Top 2022 Employers. 
"Many GTA employers are now going above and beyond our benchmarks," says Richard Yerema, Managing Editor of the Canada's Top 100 Employers project at Mediacorp. "These organizations are pushing the conversation to the next level and we're seeing new benchmarks being set for the workplace benefits and policies we write about each year."
Congratulations to all honorees!
Check out a complete list of the GTA's Top 2022 Employers. Read an overview of HIROC.