HIROC Conference: Spotlight on Cyber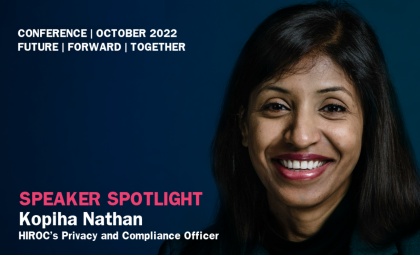 In this short video, HIROC's Kopiha Nathan and Philip De Souza chat about a few of the sessions attendees can look forward to at the 2022 HIROC Conference. Kopiha spotlights an informative cyber hour, hosted on day 3 of the conference (Oct 19). 
"Welcome to Cyber Awareness Month," says Kopiha Nathan, HIROC's Privacy and Compliance Officer. She joins Philip De Souza, Director of Communications and Marketing to chat about HIROC's upcoming conference, taking place between October 17-19. 
In line with the theme of cyber awareness month, we're bringing in speakers from Canada Health Infoway, INQ-Law, Alberta Health Services, Eastern Health, and Ontario Health (October 19).
"Learning and growing is a day-to-day part of a cyber security professional's life, that's the only way to fight cyber criminals and stay ahead of them," says Kopiha.
New! Win a $250 Learning Grant
At HIROC, sharing knowledge across the healthcare sector helps us to not only live our vision of partnering to create the safest healthcare system, but it also means bringing the community together to turn the corner on patient safety.
And we need your help to bring people on the journey. That's why for the first time ever, we're having a little fun encouraging Subscribers to spread the word about the 2022 HIROC Conference.
Here's how it works: The more people you get to register for our FREE VIRTUAL conference, the better your chances are of winning a $250 learning grant from HIROC. This grant can be put towards an approved healthcare learning workshop, webinar, forum or conference in 2022/23. 
Who can you share with?
Everyone at your organization (feel free to post the link to your intranet), even your contacts on Twitter or LinkedIn… the sky's the limit!
To make it easy, here's the link: https://hopin.com/events/2022-hiroc-conference/registration
When your colleagues register, make sure they enter your name in the "Let us know who to thank" field. 
Questions? Email us at communications@hiroc.com.
Thank you for your support and see you this October!