HIROC Announces 2021 Safety Grant Recipients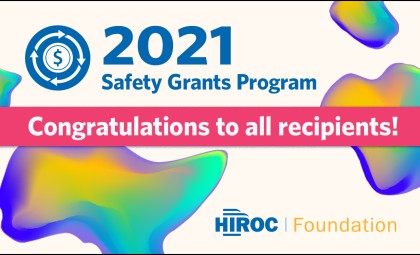 It's that time of year again! The HIROC Foundation is excited to announce the successful applicants of our 2021 Safety Grants Program. 
This year HIROC received outstanding applications from across the country. With so many innovative safety projects on the table, the HIROC Foundation has approved a total of $150,000 to be distributed in 2021. This means we can fund more Subscriber initiatives in 2021 than in previous program years, to help scale innovation even further. 
Congratulations to the following HIROC Subscribers: 
Alberta Health Services
Central Health – Newfoundland
Covenant Health
IWK Health
Lakeridge Health
Michael Garron Hospital
Niagara Health
Oak Valley Health
Peterborough Regional Health Centre
Shared Health – Winnipeg 
Sinai Health System
Southlake Regional Health Centre 
Sunnybrook Health Sciences Centre
The Ottawa Hospital
Women's Health Clinic – Winnipeg
This year's projects fall under the safety themes of maternal/neonatal harm, death by suicide while under care, patient deterioration, healthcare human resources, and building emergency resilience. 
We look forward to sharing the work of these Subscribers over the next year. Together we can scale and spread innovations like these across the country, and turn the corner on patient safety.
Thank you to all who submitted applications for this year's program. If you have any questions about HIROC's Safety Grants Program, reach out to us at grants@hiroc.com.