HIROC announces 2020 Safety Grant Winners!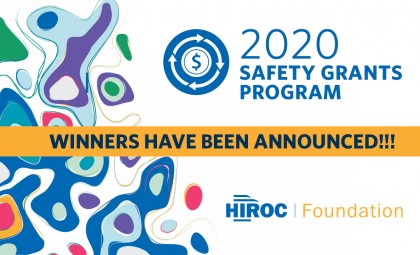 After reviewing the many fantastic submissions, the Board of HIROC's Foundation is delighted to reveal the successful applicants for the 2020 Safety Grants:
Alberta Health Services - Alberta
The Centre for Addiction and Mental Health - Ontario
Eastern Health – Newfoundland
Grove's Memorial Community Hospital - Ontario
Joseph Brant Hospital - Ontario
Providence Care  - Ontario
Trillium Health Partners - Ontario
Western Health  - Newfoundland
"We're excited to see these innovative initiatives come to life," said Catherine Gaulton, HIROC CEO.
"We at HIROC are keenly aware of how the funds from these unique grants can support safety and quality initiatives at HIROC Subscribers."
The Safety Grants Program is an annual initiative created by the HIROC Foundation providing funding support exclusively for HIROC Subscribers.
The grants program is funded through donations from HIROC's Brokerage – just another way that the different entities created to support Subscribers can contribute to the healthcare system.
Since the program's inception, HIROC has awarded $220,000 to 11 projects.
"HIROC values the commitment to safety by our Subscribers and our primary aim is to be a support to action safety, share the knowledge created across Canada, and help to sustain improvements," added Trevor Hall, Vice President, Healthcare Safety and Risk Management.
Stay tuned to learn more about each winning initiative, but until then, we encourage you check out stories from the 2019 grant winners.