Helping Alberta's Young People Have #MoreGoodDays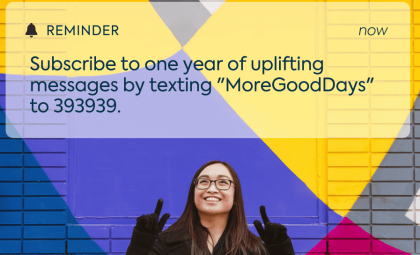 Sharing innovative programs and learning from the successes of other healthcare organizations is key to turning the corner on patient safety. Here's a story from HIROC Subscriber Kickstand, an organization providing integrated youth services in Alberta, part of the Mental Health Foundation. If your organization has a story to share with HIROC, please reach out to us at communications@hiroc.com.
Young people aged 12 to 25 are among the most underserved populations for mental health and substance use support in Alberta – and the COVID-19 pandemic has dramatically exasperated this issue.
There have been increasing calls to make health and wellness services more effective by directly engaging young people in service design, delivery, and evaluation. That's where Kickstand comes in!
Kickstand was created to ensure young people can get help in the easiest way possible by providing better support and offering a variety of connected services in one location. These services include assistance with physical health, mental health, substance use and social services like housing or employment support plus peer support.
#MoreGoodDays
That's why Kickstand is excited to share #MoreGoodDays – a supportive text message program created by Kickstand for young people in Alberta. #MoreGoodDays is an adaptation of the Text4Hope program launched last year that helps users shift their perspective. Research on Text4Hope saw users reporting an overall reduction of stress, anxiety and depression, and the team is hoping for similar results for young Albertans.
Made possible through support from the Alberta Blue Cross and the Mental Health Foundation, the program works by sending those who've signed up a daily dose of inspiration and support straight to their phone via text message. Young people of any age with a cell phone can subscribe by texting "MoreGoodDays" to 393939. The program is totally free, but if one normally pays to receive text messages, they may incur charges.
"This initiative uses a proven method to improve mental well-being and reduce stigma around seeking mental health help, and it equips youth and young adults with mental health knowledge and literacy," says Katherine Hay, Executive Director at Kickstand.
These text messages were all created by Kickstand working alongside over 40 young people, making them 100 per cent created by Alberta youth, for Alberta youth.
"In a time when connection, support, and encouragement can be hard to come by, these simple daily messages written by young people can make a big difference," adds Hay.
The message creation process itself was designed to be beneficial to the young people who participated in creating the program, as it involves a high level of youth engagement. Research shows that engaging young people to help create solutions for issues that impact them promotes resiliency and connectedness. Meaningful youth engagement has been shown to reduce risk for suicidal thoughts and behaviours.
"When I heard about the opportunity to help others, I was very excited because I have dealt with anxiety – so I wanted to help others who might be dealing with something similar," says Ayla, a #MoreGoodDays Message Writer and Edmonton High School Student.
"I was going through a hard time when I first came into contact with the program. While writing the messages, I felt excited and pumped up to write more positive messages to youth. When the messages started going out to other people - I was so happy that my messages were being read by other people."
The #MoreGoodDays program is also intended to examine the impacts of mobile health technology with a population-level approach, focusing on the mental health and overall well-being of young people in Alberta. The program is planned to run over the course of 12 months, with self-report surveys administered at baseline, six weeks, six months, and the final mark. Quantitative outcomes will include changes in score on standardized measures for depression, anxiety, stress, resiliency, and well-being.
"It's been rewarding to not only have over 40 young people actively participating in the creation of the program, but also have them reaching out for more opportunities to do similar work," says Alex San Diego, Youth Engagement Coordinator at Kickstand.
"It shows that young people in Alberta really do care about improving youth mental health in their province; they simply lack the opportunities to do so. I'm proud we can provide meaningful opportunities such as MoreGoodDays that keep youth engaged and excited during such difficult times."
If you're interested in learning more about Kickstand and #MoreGoodDays, please visit mykickstand.ca. If you have any questions about this article or if you're interested in sharing a safety story from your organization with HIROC, please connect with us at communications@hiroc.com.