Health Human Resources Challenges: A Leadership Fireside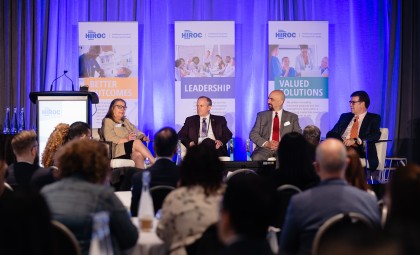 HIROC's 2023 Conference Offered a Fresh Perspective on HHR Challenges
On April 24 at the 2023 HIROC Conference, over 500 healthcare providers, leaders and partners came together to share stories and strategies for overcoming today's sector challenges. 
One challenge being that of Health Human Resources (HHR). 
"We are all talking about the crisis that is the Health Human Resources situation in healthcare right now," said Catherine Gaulton, HIROC's CEO, in an opening fireside chat with leaders from across Canada. 
Thank you to Steve Ashton (IWK Health Centre), Cameron Love (The Ottawa Hospital), and Mike Nader (Winnipeg Regional Health Authority) for sharing so openly with our conference delegates.  
If you have 45 minutes, we encourage you to watch a recording of the session. 
Short on time? Here are some of the core takeaways from the talk: 
We have to resist the urge to roll back to pre-pandemic models and ways of thinking – we had HHR and systems challenges that existed across the country well before COVID. 
There needs to be a focus on creating strong leadership and resilience in middle management (including medical leadership). The majority of people stay at or leave an organization because of who they work with and for. 
We must tune into what current generations want from their employer. Things like flexibility, performance feedback, career coaching, and mentoring are all important to today's workforce. 
Frontline care is essential, but so are experts in industrial engineering, HR, change management, and financial analysis – we can't radically transform the system without these experts. 
Investments in IT and digital transformation will be critical going forward. That includes hiring the right kinds of thinkers, those who can look at the data, ask questions, and use it to inform future decisions. As part of that, we need to find ways to reduce manual work. 
Patients need to be embedded from the frontline up to the governance level; their voice carries weight and will be essential as we innovate. 
Ultimately for the three panelists and Gaulton, from where we stand today it must start with optimism and hope for the future. "Like Star Wars," said Nader, "we need a new hope."
Have questions about the 2023 HIROC Conference or upcoming events? Contact communications@hiroc.com. We're here for you.