Hamilton Health Sciences Gets 2022 HIROC Safety Grant to Optimize Early Warning Scores in Epic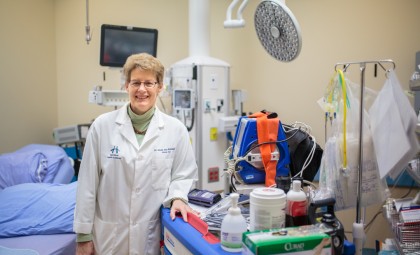 Thank you to the team at Hamilton Health Sciences for sharing your 2022 HIROC Safety Grant project with our Subscriber community.
"The Safety Grants Program is an opportunity for our Subscribers to action safety innovation – a quality we value at HIROC. We are proud of the great work Subscribers like Hamilton Health Sciences are doing to find safety solutions and make a difference in healthcare," says Trevor Hall, Vice President of Healthcare Safety and Risk Management at HIROC.
If you're interested in learning from past grant recipients, HIROC will be hosting a virtual Safety Grants Learning Day on June 2nd, 2023. Stay tuned for registration information.  
If your organization has a story, reach us at communications@hiroc.com. Through sharing and scaling lessons learned, together we can create the safest healthcare system.
---
Hamilton Health Sciences (HHS) is launching a new safety project to better catch red flags in a patient's health during their hospital stay by setting up a real-time monitoring system that notifies rapid response teams of patient deterioration. The project aims to optimize patient vital signs and early warning scores tracked and displayed in Epic, the new hospital information system at HHS.
The project is funded by HIROC, which awarded 11 safety grants in 2022 to healthcare organizations from across the country.
Charissa Cordon, outgoing HHS chief nursing information officer, and Dr. Alison Fox-Robichaud, HHS critical care physician and director of medical education, are the leaders of this interprofessional team project.
Fully Integrate HEWS into Epic Rollout
"HHS has already been successfully using the Hamilton Early Warning Score to help recognize deteriorating patients. Now we need to make sure that's fully integrated with our Epic rollout," says Cordon. "We want the digital dashboards to display this information on every unit, and for the RACE/PACE teams to also see the information in their area so that they can monitor and respond quickly instead of waiting for a call."
At a minimum, patients should have a full set of vital signs taken every eight hours including temperature, heart rate, respiratory rate, blood pressure, oxygen saturation and level of consciousness. When they're entered in the right place in Epic, together they produce the early warning score, which is part of the data displayed on the new large monitors at nursing stations.
"Nurses need to enter the complete set of vitals to generate a HEWS score," says Cordon. "Part of this project is to educate staff about how to enter the information in Epic appropriately so that the HEWS score appears on the Epic boards and we can monitor and provide timely responses when needed. This strengthens our interprofessional team-based approach to identify deteriorating patients early and provide timely escalation."
R

educe Code Blues
Through a series of PDSA cycles (plan-do-study-act) that include education of the ward teams, dashboards that notify the rapid response team, and adding the Epic deterioration index, the project aims to reduce "failure to rescue" situations and improve recognition of hospital-acquired infections.
"We want to monitor every single patient at risk for deterioration and sepsis," says Fox-Robichaud. "Early interventions help prevent more serious issues such as unplanned intensive care unit admission or code blue. And when our rapid response teams get information in real time, they will be more prepared to step in and help when needed."
The HIROC grant supports a new coordinator role that will be responsible for project management and providing education. The project will also ensure PACE/RACE offices are equipped with monitors to view HEWS/PEWS early warning scores remotely.
Leverage Existing Data in Epic
"By leveraging existing data in Epic, we can proactively monitor the patients at highest risk," says Fox-Robichaud. "This hits the mark in terms of continuing to try and reduce hospital-acquired infection and serious sepsis outcomes."
The one-year project objectives include:
50 per cent reduction in critical events such as cardiac arrests, unplanned ICU admission, hospital-acquired sepsis, and unexpected in-hospital mortality

Increased active usage of electronic boards being used for patient care

100 per cent complete HEWS scores at the prescribed frequency

Appropriate calls to team RACE for elevated HEWS, aligned with HHS escalation of care guidelines

All nursing staff trained in HEWS scores, how they are calculated, and what is required for documentation

All residents trained in monitoring and escalation process
The "Optimizing the HHS Early Warning System to facilitate timely response to patient deterioration" project will involve teams at every HHS site that provides acute inpatient care.
Story by Joanna Zuk, Hamilton Health Sciences
---
Learn more about HIROC's Safety Grant Program. If you have questions about the 2023 application cycle or our past recipients and their work, email grants@hiroc.com.
Don't forget to mark June 2nd, 2023 in your calendars for the 2023 virtual Safety Grants Learning Day. Stay tuned for registration information. 
If your organization has a story, reach out to us at communications@hiroc.com. Together we can turn the corner on patient safety.