Guidelines to Help Mitigate Spoilage of Sensitive Materials and Supplies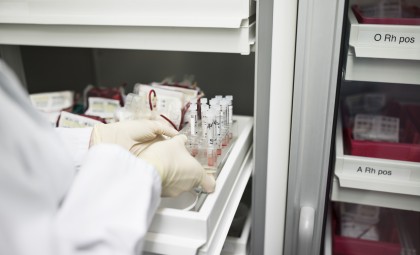 As your trusted insurance and healthcare safety advisor we're always on the lookout to find opportunities to share knowledge with our valued Subscribers.
Our primary goal in all of this is to ensure you and your teams have the right information to make important decisions.
We hope you find this article courtesy of our partners from HSB Canada helpful.
As always, our team is here for you – if you have any questions, please feel free to reach out to us at inquiries@hiroc.com.
GUIDELINES TO HELP MITIGATE SPOILAGE OF SENSITIVE MATERIALS AND SUPPLIES
Laboratories, hospitals and clinics require appropriate refrigeration temperature control to protect and ensure the efficacy of sensitive materials such as blood, tissue and medicine.
Refrigeration systems are known for their complexity, and together with air conditioning, make up around half of all equipment breakdown losses. This complexity is due to many component systems work together, such as compressors, fans, electrical systems, electronic thermostats and controls. If one component is not working properly, the whole system may break down, causing a rise in temperature and loss of valuable inventory.
Guidelines for mitigating refrigeration spoilage losses
Manage conditions
Understand the sensitivity of inventory to temperature fluctuations, threshold temperature and light exposure. 
Consider installing automated temperature alarm systems, designed to provide instant warning when conditions stray from ideal.
In addition to alarms, state-of-the-art temperature monitoring provides a continuous record of temperatures. Stored temperature data can be used as a trouble-shooting tool.
For vaccine storage, refrigerators should maintain a stable temperature within, even when the surrounding ambient temperature changes.
Maintain systems
Ensure there are appropriate maintenance plans in place. As mentioned, all components working together are crucial to the entire refrigeration system's functionality. 
Keep a reliable power source
Ensure a reliable source of primary electrical power to the refrigeration system and temperature monitoring components.
Incorporate a reliable source of backup power. Use of backup generators must be linked to 24 hour monitoring. Standard operating procedures should also be in place for power outages, in order to have the best chance of maintaining stable refrigeration temperatures until interruptions to the primary electrical power source are resolved. When interruptions to the primary power source occur, backup generators could make the difference between a complete or partial loss of inventory.
Manage inventory
Allow for careful planning of storage locations. As a general rule, the lower the average storage temperature and the larger the storage space, the more slowly spoilage is likely to develop. Smaller units can experience spoilage loss in a matter of hours.
Have a contingency plan. Consider where the inventory will be relocated in the event of an equipment failure and how efficiently and safely it can get there without reaching the spoilage temperature.
Reduce human error
Implement adequate staff training to reduce human error. This may help to avoid missteps which can include incorrect temperature setting, as well as leaving refrigerator doors open.
Even with the best laid plans, equipment breakdowns can occur
Here's an example of how equipment breakdown insurance responded to a spoilage loss:
At a local hospital, a small refrigeration unit broke down because of the failure of its control board, the purpose of which was to manage its fans and compressor.
The entire inventory was spoiled as a result of the failure, including drugs and medications imperative to daily operations. Insured losses totaled $100,673.
Are you also covered for extra expenses?
A refrigeration breakdown may not only be disruptive and place patient health at risk. There is another type of loss incurred when equipment needs to be repaired or replaced: Extra Expense. Without an electrical power backup, a facility may require rental power generation equipment, the cost of which may become quite significant depending on repair or replacement lead times. 
It is now more important than ever to ensure your healthcare facility has appropriate mitigation plans and coverage in place. For more information about Equipment Breakdown insurance please email Jean Asuncion, HIROC's Engineering Liaison Associate at jasuncion@hiroc.com.
Content source: HSB Canada