The Good Catch Awards: Driving a Culture of Safety at CHEO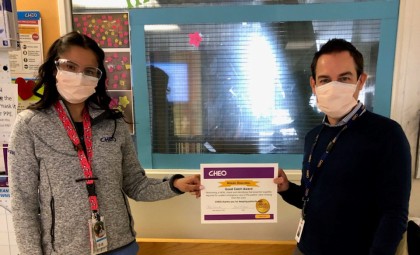 If you're a regular on Twitter, it's hard to miss Alex Munter, President and CEO of the Children's Hospital of Eastern Ontario (CHEO), and HIROC Board Member, celebrating a Good Catch Award with his staff and the CHEO community. At HIROC we are always looking to share innovative safety stories, with the goal of seeing those initiatives scale further across the healthcare system. We are fortunate to have sat down with the team at CHEO to learn more about their Good Catch Awards. If your organization has a safety story to share with HIROC, reach us at communications@hiroc.com. 
How did the Good Catch Awards come to be? And how does the initiative work? 
As part of continuously building on our safety-first culture, we make a point of being transparent and celebrating successes. Safety Stories and Good Catch Awards are inspired by CHEO's participation in Solutions for Patient Safety — a network of 145+ pediatric hospitals working together to improve patient safety as highly-reliable institutions. Achieving zero harm events to patients and staff alike is also a top priority of our corporate strategic plan and guides all decisions we make. Safety Stories and Good Catch Awards move safety reporting from not only capturing when things go wrong and lessons learned, but also recognizing when Team CHEO's intervention prevented harm.  
Members of our safety, quality and risk management team meet weekly to review the latest Safety Reporting System (SRS) entries and identify potential Safety Stories and Good Catch Awards. Working from the SRS, the team identifies staff and medical staff who intervened to prevent harm from reaching a patient or staff. One member of the team creates a Good Catch Award certificate and CHEO's President and CEO, Alex Munter, personally presents these to recipients and acknowledges their Good Catch at leader's meetings, in all-staff communications and on our social media channels.
How has the program helped shape the culture of safety at CHEO?  
Sharing Good Catch Awards acknowledges staff and medical staff who have acted on their own initiative to prevent harm from coming to a patient or each other. This public recognition reinforces that everyone has agency to ensure that Safety First is always the first consideration. Good Catch Awards reinforce the value of putting high-reliability principles and processes into everyday practice as a habit.
How do the catches contribute to CHEO's overall culture of safety?
Good Catch Awards can identify gaps in existing standard procedures that can be updated quickly and shared broadly. But most important, Good Catches keep us all on our toes – it gives everyone permission to use their voice and speak up when they have questions or concerns. This is a culture shift that informs our safety work, but it's also about helping families to achieve faster access to care and overall a more inspiring workplace. 
How are staff embracing the awards? 
At first, we were identifying Good Catches through our weekly review of safety events. Now that we have launched and featured Good Catch Awards as a formal and consistent recognition campaign across the entire organization, staff and medical staff proactively reach out to share their Good Catches in real-time. They are proud, and we are proud of them too.
What's next for the initiative? 
We're exploring ways to make it easier for staff and medical staff to nominate their colleagues for a Good Catch Award. Nominating Good Catch Awards at each unit huddle is becoming standard, and leaders are always asking for Good Catch Awards nominations when visiting the frontline. We're trying to be as creative and engaging as possible so we're doing what CHEO does best – asking Team CHEO and the families we serve for their ideas! Safety First is an inspiring mandate for everyone to get behind.
CHEO's Good Catch Team includes: Dr. David Creery, Medical Director of Patient Safety; Martha Pinheiro-Maltez, Quality and Safety Coordinator; Stephanie Poirier, Manager, Patient Safety and Clinical Risk; David Scharf, Communications Specialist; and, Marie Belanger, Communications Specialist.
Thank you to the team at CHEO for sharing the Good Catch Awards with HIROC Subscribers. If you have questions, or a story from your own organization to share with HIROC, reach us at communications@hiroc.com.