Get to Know our New Board Members!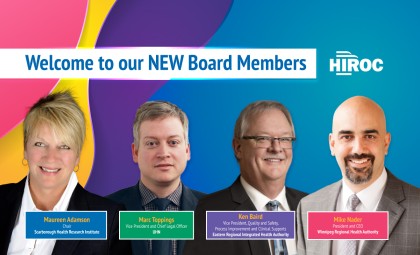 HIROC welcomes four new Subscriber leaders 
At our 2022 Annual General Meeting, four new members joined HIROC's Board of Directors. Please join us in welcoming Maureen, Marc, Ken and Mike.
The HIROC Board is made up of representation from right across the Reciprocal. Our board is a collection of dedicated healthcare leaders who all live HIROC's vision of partnering to create the safest healthcare system.
Learn more about HIROC's Board of Directors. 
We asked our new members to share what motivates them to give back to healthcare. Here's what they had to say. 
---
Maureen Adamson 
Chair, Scarborough Health Research Institute 
Why is board work and giving back so important to you? 
Volunteer work is the fabric of our society. If you think about healthcare alone, it is the hundreds of thousands of volunteers who help to make our encounters with the healthcare system manageable.  
When I was CAO for Women's College Hospital, we had 400 volunteers that gave their time every day to hold someone's hand or help them navigate through a big scary hospital. While I'm not a frontline volunteer, offering my governance expertise is my way of saying thank you to all volunteers who help make Ontario and Canada so wonderful. 
I also love to learn about organizations and their culture, and I very much value the expertise and contributions of my board colleagues. I have always learned a great deal from my colleagues, in every board position that I have had the privilege to participate in.
What was your first job?
My first job ever was as a lifeguard in the summers at beaches and pools. My first "real job" was a staff accountant at a large Chartered Accounting firm in Toronto.
What's your productivity hack?
Well now that I know what a productivity hack is, I would say that I go for frequent walks. If I start to drift off or become distracted, a quick walk around the block will bring me back. I also have to shut CP24 off sometimes if I get too interested in the news of the day.
If I need to get motivated to complete things, I plan the day out (how many hours on any given task or topic).  
I am currently doing my PhD and having milestones is critical because I typically never miss a milestone, so that motivates me to keep going. I also thrive on exercise; a run on the treadmill or spin bike will always be the start of a productive day. If I miss exercise, my days are not as productive.
Marc Toppings
Vice President and Chief Legal Officer, UHN
Why is board work and giving back so important to you? 
Some of the best advice I received, very early in my professional career, was to align your work with your values if you want to be happy in your work. It was in the context of my then just beginning legal practice, but that advice has stayed with me and continued to influence my decisions.
Contributing to boards, and in particular to boards of organizations like HIROC which are working toward supporting the safest healthcare for Canadians, is an example of that alignment of work and values. Working on boards also represents a real learning opportunity which I very much value – to learn from my co-directors and management who bring a myriad of backgrounds and lenses that in turn leads to deeper understanding.
What was your first job?
My first job was in the concession stand of my high school's hockey arena.  I recall being told to make the popcorn toward the end of periods so that the smell would motivate the fans.
How do you stay motivated to get things done?
The book "Eat that frog!" by Brian Tracy comes to mind which addresses taking on that task or thing, which you may be delaying or avoiding, first. Getting it out of the way. I also increasingly try to carve out time for myself to get work done when I'm not constantly on email, to allow myself that time to get deeper into certain matters. I'm reading "Deep Work" by Cal Newport on a recommendation now which is influencing that trend.
Ken Baird
President and Chief Executive Officer (Interim), Eastern Regional Integrated Health Authority 
Tell us a bit about your background.
I have been engaged in healthcare delivery since 1980, when I completed my training as a Medical Radiation Technologist (X-Ray) at Cabot Institute in St. John's NL. And since that time, I have worked in Alberta, New Brunswick, Nova Scotia and Newfoundland and Labrador. 
I worked clinically for the first seven years of my career, transitioning to my first management post in Medical Imaging in 1987. In 1993, I accepted my first general senior administrative posting, at which time I made the choice to focus my career toward a general health administration stream, which I have continued to pursue successfully to current day.  
I joined Eastern Health in 2016 in my current position as Vice President of Clinical Supports, responsible for Pharmacy, Medical Imaging, Paramedicine and Medical Transport, and Pathology and Laboratory Medicine, in addition to serving as the site VP for the Health Sciences Complex. In 2019, Quality, Patient Safety and Risk Management, and Process improvement were added to my portfolio responsibilities.
Why is board work and giving back so important to you?
Throughout my administrative career, I have maintained a connection and affinity with the quality, safety and risk agenda, having served as the program coordinator in several hospitals. The recent realignment of these services into my portfolio at Eastern Health has rekindled my passion for this work, and its importance to ensuring optimal outcomes for those we serve. 
When the opportunity to volunteer my time and capabilities with HIROC came forward, I jumped at the chance to engage with the organization and offer my experience and talents to the board. The opportunity to "give back" to a sector that has given me so much over the years gives me a great personal sense of accomplishment and intrinsic reward.
What was your first job?
As a young student, I was lucky to be able to support my education working as a lifeguard at our local community pool.
What is your productivity hack?
I love the utility of the Microsoft Viva app, and its auto-scheduling feature to block out time in your calendar based on criteria you program to put time in your day for focused activity. This ensures that I have dedicated time each day to address urgent priorities and deliverables that arise unexpectedly, while minimizing any disruptive impacts to my work schedule. I also turn off the notification features with email to avoid the "pressure" of that constant reminder. Works great for me!
How do you stay motivated to get things done?
Spending time with family and friends keeps me grounded with the reasons why I do what I do – to ensure our healthcare system is as safe and effective as possible. Like many of us, I am deadlines-oriented and despite my best intentions to the contrary, I do seem to be constantly prioritizing my work effort based on looming deadlines. But, anything that strategically connects with ensuring we are able to deliver excellence in the care and service we provide to those we serve keeps me engaged and motivated.  
Mike Nader
President and CEO, Winnipeg Regional Health Authority
Why is board work and giving back so important to you? 
We all live in a community and it is so important to give back to the community that we have benefited from throughout our personal and professional lives. I've had the great benefit of lots of lived experience, and this is a way for me to "pay it forward" and give back to a community that has given me so much. Board work also provides a wonderful opportunity to continue to learn, grow and connect with leaders from across the country. The amazing thing about the HIROC Board is that it allows us to stay connected with colleagues from across Canada, collaborate with them on the work of HIROC, hear about their challenges and learn about the creative solutions they are developing to address them.
What was your first job? 
My first ever job was as a paperboy delivering about 300 papers to our community in Vancouver. My first job in healthcare was at Vancouver Hospital and Health Sciences Centre as an IT technician – a job I got right after I graduated high school. 
What do you do to get motivated and get things done?  
What motivates me to get things done are the opportunities to improve the health system. The one thing that is guaranteed within our lifetime is that we (ourselves, our families and loved ones) will require health services. The opportunity to support the health system in improving the services that are offered motivates me the most. 
What is your productivity hack?
My best productivity hack is to focus on the things that you can control, make changes where they can be made, and not to "sweat the small stuff".
Learn more about HIROC's Board of Directors.