Get to Know HIROC's Newest Board Members: Michael Lam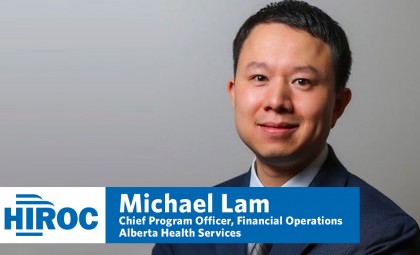 As part of our interview series welcoming HIROC's new board members, Philip De Souza, our Director of Communications and Marketing, sat down with Michael Lam of Alberta Health Services (AHS).
Philip De Souza: Hello Michael! Nice to virtually meet you! Can you tell our Subscribers a bit about where you work and what you do?
Michael Lam: I am the Chief Program Officer, Financial Operations at Alberta Health Services. I lead a large team of finance and accounting professionals who provide financial services across the province, in the areas of business advisory services, treasury, financial reporting, finance shared services, and finance business improvements and systems.
Philip: What does good governance and being an active board member mean to you?
Michael: First off, I am very excited to join the HIROC Board of Directors. In the time AHS has worked with and become a Subscriber of HIROC, and the short time I've been on the board, I have been thoroughly impressed by the great leadership, vision, values, people, and culture of this organization, and its continuous focus on its customers, its people, and patients and families more broadly. 
This is also an exciting time for HIROC, as it continues to expand and provide insurance, risk management services, and other innovative solutions from east to west. With that provides for a unique opportunity to share experiences and learnings across the country. Being an active board member includes sharing those experiences, best practices and ideas, staying on top of emerging issues and risks, and supporting the organization as it continues to execute on its strategic plan and vision. 
Philip: What is one thing people would be surprised to learn about AHS?
Michael: Alberta is home to Canada's first and largest province-wide, fully integrated health system, providing health services to over 4.4 million people. For the past 11 years, AHS has been responsible for health services for the province across a full continuum of care. 
This model has been especially effective during periods of crisis, such as the COVID-19 response, as it enables us to be able to respond in an integrated and coordinated way. Our leadership teams see the provincial picture, make the necessary decisions, and move quickly and nimbly to deploy resources across the province to areas of greatest need or risk. 
With a team of well over 100,000, AHS is proud to have been named one of Canada's Top 100 Employers over the past several years, as well as to be recognized as one of Canada's Best Diversity Employers, Canada's Top Employers for Young People, and Alberta's Top 75 Employers.
Philip: How do you recharge… stay motivated?
Michael: The current environment has been challenging and everyone has had to adjust and adapt to a new way of working. I've been extremely impressed and inspired by the resilience and responsiveness of all those directly or indirectly involved in healthcare, as we all continue to do what we do best. 
Personally, spending time with my family, including my two children (they are 8 and 11) outdoors as much as possible has helped me to recharge each week.
Philip: What's one misconception people have about accountants?
Michael: One common misconception is that accountants are focused only on the numbers. The role of finance and accounting in organizations such as AHS has evolved over time, and includes being a key strategic business partner, participating in evaluating strategies and decision-making, having an active role in managing organizational risk, ensuring effective governance and fiscal management, and continually innovating and transforming processes and systems to increase efficiencies and add value.
Philip: What's the first thing you do when you wake up?
Michael: Actually, my mornings have not changed much from prior to and during the COVID-19 response. As I mentioned, I have two elementary school-aged children so my mornings usually start early, and involve helping the kids get ready and fed before school – except this now means giving them breakfast at the kitchen island and then sending them off to our dining room, which doubles as a school classroom. I'm sure many of my fellow parents with young children can certainly relate!
Philip: Thank you for sharing Michael! We look forward to working closely with you… and welcome to the HIROC Board!
Learn more about the HIROC Board of Directors and its members.