Finalists Announced for the Patient Safety Design Competition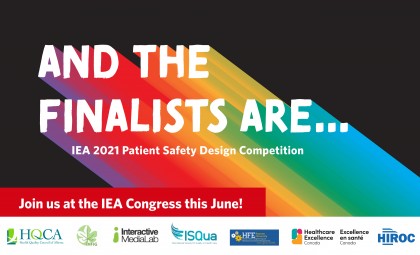 Last fall, we called on students and early career researchers (ECRs) to explore design solutions that address clinical deterioration; one of the most pervasive global healthcare issues. 
The competition aimed to 
Encourage young and bright minds to apply their HF/E knowledge and 
Deliver valuable learning and networking experiences to a new generation of HF/E researchers. 
We are pleased to announce the finalists for the IEA 2021 Patient Safety Design Competition:
From our ergonomics track: Ryerson University's Amar Latchman, Joseph Campos, and John Naismith with Industrial Ergonomic Assessment of Trillium Hospital Oncology Department. 
From our UX/HCI Track: University of Toronto's Audrey Benmergui, Maeesha Biswas, Alyssa Iglar, and Karen Zhao with Nura: A Postpartum Mental Health Tool.
The design competition will culminate at the IEA Congress this June where our finalists will compete through 20-minute podium presentations, followed by questions from a panel of expert judges, who will select the winning team. 
As this was the competition's first year, there were many learning opportunities for the organizers. We look forward to expanding and improving our competition for future meetings. We hope to take our next competition to an international scale by involving HF/E students and ECRs across the globe.
To learn more about the Patient Safety Design Competition, please visit our website. 
To learn about these design solutions, join us at the Special Session in June – register today!