A Facility Manager's Best Asset!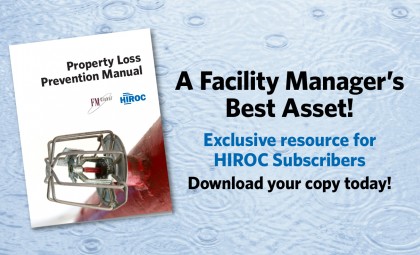 The Property Loss Prevention Manual was created in partnership with FM Global, and designed to provide a basic understanding of recommended critical human element programs, which should be established as best practices in all facilities to help minimize the potential for, and severity of losses that could take place.
"Human element programs are inspections and processes performed by personnel to help reduce the chance of having a property loss," says Jean Asuncion, Engineering Liaison at HIROC.
"The Property Loss Prevention Manual is intended to empower employees to take an active role in protecting their property, and the valuable services it provides for our communities."
In the manual, you will find 10 recommended programs your healthcare facility can implement as part of good property conservation. As your trusted healthcare safety advisor, the following are the top three that HIROC and FM Global recommend.
1. Implement a Formalized Water Leakage Emergency Response Plan
Water damage continues to be the number one property loss driver for healthcare organizations. It's critical for your facility to not only develop a Water Leakage Emergency Response Plan, but also review and exercise it on a regular basis to ensure valves haven't seized and can close completely when needed.
Part of a comprehensive plan is a list showing the location of all water shut off valves, a detailed action plan for a response to leaks and a designated emergency response team.
Included in Appendix A-1 of the manual are FM Global's Liquid Damage Guidelines for healthcare facilities, which detail steps for mitigation and emergency response.
"Every minute counts," says Shiva Nourmansouri, Account Engineer at FM Global.
"How quickly you respond to a water leak can make all the difference in the amount of damage at your site."
HIROC Subscribers can download a sample Water Leakage Emergency Response Plan
2. Weekly Inspections of Fire Protection Control Valves
For sprinklers to provide water in those first few critical minutes of a fire, supply valves need to be maintained in the open position at all times. It is recommended that these valves are visually checked on a weekly basis.
The manual includes images of two of the most common types of sprinkler valves found in hospitals, as well as guidance on how to confirm that these valves are in the open position.
In Appendix B, you will find a customizable checklist template for your site's weekly valve inspection program.
3. Managing Fire Protection Impairments
From time to time, it is necessary to shut off fire protection systems for a number of reasons. Every healthcare facility should implement an impairment management program to minimize the duration of an impairment, and create temporary measures to help prevent a loss from occurring while fire protection systems are out-of-service.
With FM Global's Red Tag Permit system, facility managers can outline key precautions to take before, during and after and impairment takes place.
"This manual should provide awareness and knowledge to employees, who should use it to implement prevention and control practices with a goal of mitigating losses," adds Jean.
If you'd like to learn more about preparing your facility for winter, the HIROC-FM Global partnership, or the Property Loss Prevention Manual, please watch a recording of our Talk with HIROC livestream found below.