Exercise GTA Unified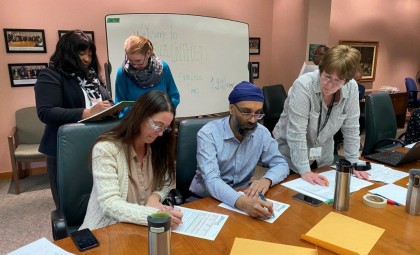 At West Park, #ExerciseGTAUnified Shines a Light on Peer Support

In healthcare, the words Code Orange tell us one thing for certain – external disaster. 
Hospitals are seeing an increasing number of Code Orange calls in response to incidents like the Danforth Avenue shooting, the Yonge Street van attack, and the shooting at the 2019 Toronto Raptors Championship parade. 
For a specialized rehabilitative and complex care organization like West Park Healthcare Centre, a HIROC Subscriber, the experience of a Code Orange differs from that of a large acute-care hospital. "Being non-acute, our response is a little bit different," said Kendra Rainford, Operational Readiness Coordinator and Co-Chair of the Emergency Response Committee.
When #ExerciseGTAUnified was proposed, Rainford and the team at West Park knew they had to be a part of it. "We had an opportunity to learn how we can support our peers in a Code Orange and what our role would be."
On November 28, 2019, 34 organizations participated in #ExerciseGTAUnified – the largest healthcare sector mass casualty preparedness event ever conducted in Canada. 
"When we got wind of the sheer number of organizations participating in Exercise GTA Unified, it was astounding," said Trevor Hall, HIROC's Vice President of Healthcare Safety and Risk Management, who was following along on Twitter. "Seeing our Subscribers come together to improve safety processes struck a chord with my team."
The Scenario 
More than 300 injured and potential casualties flooding Toronto hospitals after a series of catastrophic incidents: 
a speeding truck collides with two school buses carrying children, causing a large explosion;
another explosion strikes people lining up outside a shopping mall;
a third explosion and active shooters with high-calibre assault weapons attack people in a different shopping mall.
Source: UHN
Behind the scenes
To get ready for the exercise, Rainford and Diane Zdybal, Director of Support Services, reviewed current plans and strategies, worked with West Park's Emergency Response Committee, and brought a certain level of detail to leadership. 
Because of its scale, this exercise didn't employ mannequins or actors to play out scenarios as you may imagine, it used "paper-based injects" for every person who would present at the facility. Rainford and Zdybal received a local controller package in advance with time deliverables and inject scenarios. 
Above all else, participating organizations were provided with clear instructions that the event should not get in the way of patient care activities. 
New Tools for the Job
At West Park #ExerciseGTAUnified also provided an opportunity to become familiar with the Emergency Management Communication Tool – a portal used by healthcare organizations in the GTA. The portal serves as a communal space to report daily status changes for things like patient surges, and redirects. 
"We hadn't really had an opportunity to utilize the tool so we had to quickly orient ourselves," said Zdybal. The value of real-time communication with other organizations soon became obvious.
"We were one of the only facilities to be in the position to offer assistance to our peers," said Zdybal, who shared that because West Park currently has an empty unit, they were able to offer a certain amount of beds for vented patients. 
One new tool was also trialled during #ExerciseGTAUnified. The Family Information Support Centre (FISC) is a portal being trialled by Sunnybrook Health Sciences Centre which can be used to track patient information to assist in family and friend reunification. During the exercise, participating organizations had access to patient information of all paper-based injects. The idea is to include as much information as organizations have on a particular person, going so far as to include things like hair and eye colour. Rainford says they saw how invaluable a tool like FISC would be.
Lessons Learned
Since #ExerciseGTAUnified has wrapped, the West Park team has had a chance to reflect on some potential gaps brought to light.
The abundance of people who often show up just to lend a hand during an emergency was one of these realizations – something many organizations experience during a Code Orange. While more hands on deck is definitely a positive thing, it can create challenges and crowding in high-traffic areas if organizations aren't prepared to mobilize these individuals. 
During the exercise, Rainford says they had paper-based injects coming to their door to help (offering support or food donations). "We had not anticipated that scenario in our former plan," said Rainford.
Another learning was around security. "On a regular day our security personnel manage the needs of the Centre quite well, however in a situation like this the need for additional security became apparent quite quickly," said Zdybal; "we will need to incorporate a response which may include designating staff who can step into roles such as crowd control and traffic management."
During a post-incident debrief, organizations went through their top learnings. "It's funny because it didn't matter if you were a large acute-care or a smaller hospital like us, we all experienced the same issues," said Rainford. 
We're here to support our peers
Being a non-acute facility, West Park accepts and treats patients who are medically stable but as they learned with past events, walking wounded patients will present at any medical facility. Thanks to this exercise, West Park's new version of Code Orange includes a plan for triaging and treating minor acute care requirements. Just one of the ways West Park can help other organizations during a Code Orange. 
#ExerciseGTAUnified showed the West Park team the vital part they play in supporting their acute-care peers during an incident like this. 
On behalf of HIROC, congratulations to all the organizations who took part in Canada's largest healthcare sector mass casualty preparedness event. 
By Michelle Holden, Lead, Communications & Marketing, HIROC
---
This story was originally published in The HIROC Connection – Winter 2020. Check out the complete issue.