Equipping the Next Generation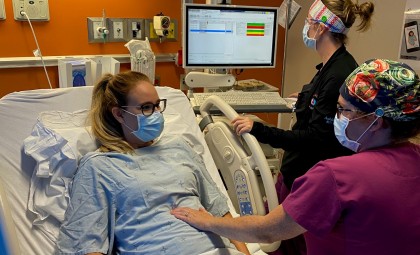 How Bluewater Health aims to enhance obstetrical care with new triage tool
The team at Bluewater Health's Maternal Infant Child (MIC) department realized their obstetrical unit was not unlike emergency departments across the country, where unpredictable presentation patterns mean the potential for extended wait times and possible impact on patient outcomes.
Michelle Walsh, Professional Practice Supervisor and Krista Turner, Manager, saw an opportunity to bolster MIC staff education at Bluewater Health with an evidence-based obstetrical patient triage tool to direct decision-making.
Bluewater Health's implementation of a "just culture" enabled staff in the MIC department to identify barriers in triaging and an opportunity to incorporate consistent assessment tools to facilitate knowledge transfer. The solution they identified is a digital documentation process called the Obstetrical Triage Acuity Scale (OTAS), developed by a team from London, Ontario, to enable safe, effective and timely care for patients.
"Our intermediate and junior nurses want to ensure they continue to make the right decisions," says Turner. "They want to improve care and we feel OTAS will support them in that."
OTAS is now built right into Bluewater Health's computer system, Intellispace Perinatal (ISP). When a patient arrives at the obstetrical unit, nurses enter a triage examination on their computer. A pop-up window displays all the pertinent questions to ask the patient.
"Depending on a patient's answers, they'll be assigned a number from one to five," said Turner. "OTAS will suggest how quickly they'll need to be seen, with a score of 'one' requiring immediate assessment, including a practitioner."
Turner expects this rapid assessment will enhance care and patient safety at Bluewater Health. "It will determine when our physicians need to arrive and how soon patients must be treated and thus improve the overall quality of care," she says.
At the outset of the project, Walsh discovered there were opportunities to improve triage training for nursing staff in a more structured way. She recalls asking them to identify where the gap in knowledge or education was.
"New staff learned how to become labour and delivery nurses, and to assess patients from more experienced nurses, with limited education specifically about triage for obstetrical patients," says Walsh.
Walsh first focused on getting OTAS fully built into the electronic documentation system and then on updating the accompanying learning package, to reflect Bluewater Health's standards of care. 
"Receiving HIROC's Safety Grant has allowed us to go faster," says Walsh. "In healthcare, there are so many competing priorities and I'm thankful we've been able to get this support for our project."
The first rounds of educational training are scheduled for September. The department has close to 30 nurses to be trained on OTAS, including the experienced senior nurses. An educational poster with triage guidelines showing response times with OTAS is also in development.
Once the team finishes implementing OTAS, Turner wants to ensure they conduct a proper evaluation of the new process to see whether the tool does help with triaging in those crucial moments. Patients will be traced to ensure best practice standards are being met.
"We want to make sure both our nurses and physicians feel like it's a benefit to them," adds Turner.
By Marc Aiello, Communications & Marketing Coordinator, HIROC
---
This story was originally published with a collection of safety grants stories in the The HIROC Connection, Fall 2020.