Equipment Inspections: A 15-Minute Masterclass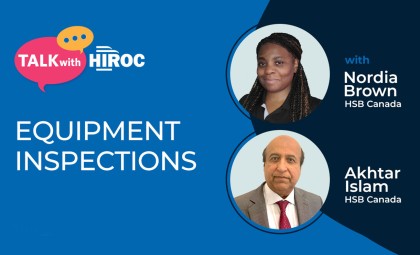 On August 23, HIROC hosted another live episode of Talk with HIROC on LinkedIn. Joined by our insurance partners at HSB Canada, the episode was a 15-minute masterclass on equipment inspections.
If you weren't able to watch live, don't fret. A recording of the show is available to stream. 
The equipment inspections episode is particularly interesting for facilities, property, and risk management reps. Please do share the recording with colleagues at your organization.
Short on time? 
Here are a few takeaways:
Inspections may help reduce the likelihood of breakdowns to insured equipment. 
Breakdowns can often be attributed to human failure. For example:

Operating equipment beyond its rated capacity
Permitting dust or dirt to build up on electrical equipment
Deliberately bypassing safety devices
Failure to test auxiliary equipment
Improper lay-up or start-up procedures for seasonal equipment
Relying too heavily on automatic devices

Consider testing electrical and mechanical equipment annually (transformer oil testing, engine oil analysis, infrared scan).
Above all else, we recommend following safety operating procedures from the original equipment manufacturer (OEM), as well as implementing preventive and predictive maintenance policies.
Follow HIROC on LinkedIn to get notified when we have new episodes of Talk with HIROC. 
With questions about facilities, reach out to inquiries@hiroc.com. If you have a topic idea for a future Talk with HIROC, email communications@hiroc.com.
Jean Asuncion is HIROC's Engineering Liaison Associate.