Driving Change Through Curiosity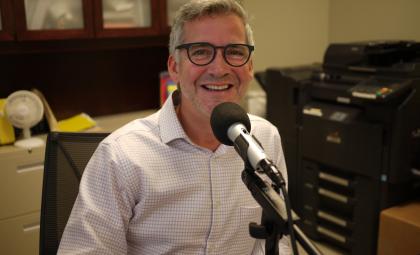 Dr. Brendan Carr featured on episode 07 of Healthcare Change Makers
December 3, 2018
"There is a tipping point between quality and safety," says Dr. Brendan Carr, President and CEO of William Osler Health System. "Just being able to move people through [the system] is not sufficient."
For Carr, this is one of the fundamental challenges today's healthcare leaders are facing – being conscious and deliberate about quality and safety, yet not doing things simply for the sake of efficiency.
In a recent interview on Healthcare Change Makers Carr opens up about system alignment, the role of leaders, and the importance of engaging patients, clients, and the communities we serve.
Healthcare Change Makers is a podcast where we talk to leaders about driving change in our complex healthcare organizations. Carr's full interview can be streamed on HIROC.com or downloaded using your preferred podcast app.
A curiosity for different systems
For someone who has worked across Canada, Carr has seen many different systems at work. With that unique lens he believes that our systems still have work to do around alignment of accountability and incentives. "I don't think it's a structural construct… it's not about the business model," he says while referencing organizations like the Cleveland and Mayo clinics. "There is clarity around their goals and objectives, and their incentives are all moving in the same direction," adds Carr.
When asked how often he looks toward other organizations and systems for inspiration, Carr says that while it's certainly important to maintain this view, we must also keep an eye on the local conditions. "I think the leadership question is to be curious about what was achieved – what were the elements or the fundamentals of it – and then ask the question, what could that look like in our environment."
Situational leadership
Carr says one of his earliest leadership memories comes from his time as a naval reservist and MARS officer. As a 24-year-old lieutenant, it was immediately apparent to Carr that leading by authority was not going to be effective. As a result, he says, "Situational leadership was one of the earliest things I learned."
There's a certain power that comes from leading through influence, being vulnerable, and engaging the people around you. "It's not simply about appearing to be present – you actually have to find ways to be able to observe, interact, and to ask questions."
This leadership style touches every aspect of his work at William Osler. "Development is an active process for us as a team," he says.
"As a senior leader, when you create those doorways for people, they go through them and awesome things happen."
From the outside looking in
The patient voice is more than just a buzzword for Carr. During the interview he tells a story from his time at Island Health in BC where it took sitting down with community members to understand that one of the single greatest barriers to care was accessibility. As a result, the team developed a local, volunteer-led bus system to get people to their appointments. "We would never have gotten to that as healthcare leaders because we wouldn't have thought about transportation as being within our purview," he said.
Carr circles this level of engagement back to design principles. "We have natural limitations because of our worldview," he says. He feels strongly that our greatest opportunities for change can only come from co-creation with the end user.
It's no surprise that at William Osler community still remains a focus for Carr and his staff. "I think my favourite part of my job is actually getting to know and trying to understand who are the people we serve," says Carr. "There is such richness in that; it's really gratifying."
Coming to work each day with a sense of curiosity and a focus on people is a cornerstone of Carr's work as both a leader and a member of the community.
"Great leaders inspire people," he says. "If we show up as people… I think that has a huge impact and it plays out in our organizations."
Dr. Brendan Carr was interviewed by Ellen Gardner, on behalf of HIROC Communications and Marketing.
---
Past episodes of Healthcare Change Makers can be found on HIROC.com. Over the course of season one we've interviewed inspiring leaders from across the country. Find us on iTunes, Google Play, Spotify, or wherever you get your podcasts.