Dr. Daniel Pepe on How Listening is Key for Patient Safety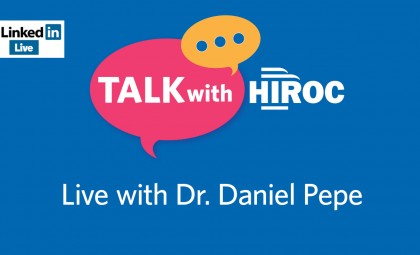 Dr. Daniel Pepe is a family doctor, and the primary care digital lead for the Western Ontario Health Team.
His list of accolades includes a recent Bright Lights award from the Association of Family Health Teams in Ontario (AFHTO), for an advanced COVID-19 self-assessment tool that connects patients directly with doctors. 
There's no doubt he's achieved in his field and given back, but that wasn't always the plan for Dr. Pepe. 
He says he wasn't always a great student throughout grade school, and was even held back in grade twelve by a serious illness. 
That's what inspired him to get into medicine. 
"It was around that time I decided I needed to do something to help," he said. "It's amazing sometimes when you become the patient, how important you understand the role of not only the doctor and nurses – but the entire system."
He says it's the system that makes the difference between a successful experience in healthcare, and an unsuccessful one. 
"When you've experienced illness, it makes a big difference," he says. "You really understand that it's a privilege, and not just a job – It's a calling." 
Watch his Talk with HIROC episode now!
'DAN-OLOGIES'
Dr. Pepe has a funny way of explaining things – so much so, that we jokingly called his analogies "Dan-ologies" in our chat. 
"Since undergrad, I was always trying to take really complicated things and distill them into simply analogies…for my little brain to understand," he said with a chuckle.
For example, a turkey baster to represent blood pressure.
"You've got the tube, you've got the ball, with fluid in there," he says. "Imagine the fluid in the tube…and it's at rest: that's one pressure when the heart isn't contracting. If you squeeze the ball, the pressure goes up and hits a top number. When you squeeze it, that's how you go up to 120, and when you relax it, that's how you get down to eighty."
THE POWER OF LISTENING
"Typically in medicine, we take [the patient's] story, paraphrase it, and put it into clinical notes," he said. "But there's a risk there: if we don't know that it's not our story to tell, we can kind of editorialize it, take things out of context, or miss important things if we don't listen."
Dr. Pepe says he's a notorious talker, but really focuses on listening when it comes to his patients.
He says listening to the big picture of a patient's story help's understand context. For example, he cites a hypothetical case where a patient has gallstones. 
"I would be inclined to say they need surgery," he said. "But, maybe the patient has gallstones because they lost their job and can only afford fast food. If you listen to the story, It's not actually their gallstones that are the problem, but it's their diet's changed and become more poor because of a life event."
He says that's why they call it a medical "practice." 
"Sometimes, you get out of med school and think 'okay I'm done, I'm ready,'" he says. "But it's really a process over time where you have to be humble and realize you don't know everything."
Another metaphor Dr. Pepe likes to use: Polaroid photos. 
"Sometimes, people come in with symptoms like a vague headache, abdominal pain, or chest pain, and I can't find anything" he says. "That doesn't mean it's not real. With Polaroids, you shake it, and it develops. That's what happens to us all the time in family medicine."
"Their symptoms are a little bit of colour in one corner of the Polaroid," he says. "And [patients] need to communicate with us as more of that picture fills in and we can get a picture of what's going on."
Dr. Pepe says at the end of the day, every symptom is worth looking into. 
"If people come to you with a symptom and you can't figure it out, I keep looking," he says. "Because at the end of the day, people don't just make up symptoms. They don't just want to be in a doctor's office."
He says at the end of the day, there's nothing better than listening for patient safety. 
"There's nothing more safe than listening to a patient," he says. "You listen to them, you take them at their word, and you keep looking."
Want to hear more from Dr. Pepe? Check out his Healthcare Change Makers Podcast episode!
To watch all the episodes of Talk with HIROC head on over to the HIROC LinkedIn page and click "Videos". While you're on the page, don't forget to hit the "Follow" button to be notified whenever we go LIVE.
By Julian Abraham, Communications and Marketing Associate, HIROC