Cynthia Davis: An Increased Focus on Psychological Health and Safety in the Workplace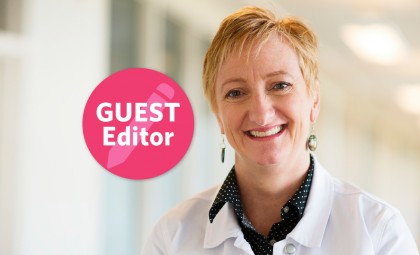 Thank you to Cynthia Davis, CEO of Western Health for being our Guest Editor for the September issue of The HIROC Insider. We are so happy to share the important work this team is doing around psychological health and safety in the workplace.
---
Like most healthcare organizations, creating and sustaining a culture of safety is a key priority for us.  Recognizing that safe, quality patient care and the psychological health and safety of workers are inherently linked, we committed to implementing the CSA standard Z1003 within Western Health. Over the last several years, we have embarked on an organization-wide initiative to embed psychological health and safety into our dialogue, practices, and culture. 
A key to our continued success has been integrating psychological health and safety into our Occupational Health and Safety (OH&S) program. Using the LEADS leadership framework, we recognized early in the process that integration would not have been successful without engaging employees, union representatives, OH&S committees, and leaders. By working collaboratively with various stakeholders, a new workplace inspection checklist and hazard assessment tool which include assessments consistent with the national standard were created. The workplace inspection checklist contains a series of questions intended to identify hazards related to psychological health and safety, as well as a suggested list of resources to assist individuals if a hazard is identified. The checklist is completed twice a year in each department, and the hazard assessment tool is completed every three years. 
This change, along with enhancements in our wellness programming (i.e. Respectful Workplace program, Employee Assistance Program, Violence Prevention initiatives), have been well received by employees. All enhancements have been designed and implemented with the cooperation and ongoing feedback of OH&S committees, unions, employees, and managers. Regular feedback from our OH&S committees, our PRIME committee (managers and union representatives), as well as our Wellness Advisory committee reflects our commitment towards the inclusion of psychological health and safety in all lines of business and a better understanding and awareness within the organization.
Annually, we review progress towards integration of the CSA standard within the organization. Effectiveness of our strategies is evaluated through several different measures. The Guarding Minds @ Work survey was administered initially to provide baseline information and will be repeated in the near future. The findings will assist us with evaluation of the integration of the psychological support and protection factors and will also indicate improvements in health outcomes, employee experience, and improved safety. As part of our improvement approach, we matched the broader upstream and more specific downstream indicators from this survey with appropriate strategies. For example, to help address psychological health challenges we have implemented resiliency training for our first responders.
Reflecting on our work so far, I am encouraged by the significant level of participation and commitment from employees, OH&S Committee members, and union representatives in the promotion of psychological health and safety in our workplace. Within the organization 80 per cent of OH&S committee members have participated in The Working Mind training, and an additional 475 staff and managers have received the training. Inspection reports and hazard assessments are now completed with psychological risks and corrective actions being identified. Strong attendance and participation in other existing initiatives such as wellness grants for departments, employee assistance counselling, stress management and work-life balance sessions, respectful workplace sessions, violence prevention initiatives  and  recognition opportunities, I believe reflect the organization and staff commitment to leveraging the importance and awareness of psychological health and safety in our workplace. Our efforts towards integrating psychological health and safety in the workplace were recently recognized as a Leading Practice by HSO Accreditation Canada.
Although our efforts continue to build a culture of safety, the work in integrating psychological health and safety is enabling a productive, effective and healthy workforce which is essential to patient safety.
Cynthia Davis is CEO, Western Health
---
Are you interested in Western Health's approach to psychological health and safety? We encourage you to share this article with your teams. 
And if you have a story to tell about how your team is innovating around patient and employee safety, reach out to us at communications@hiroc.com.