Creating a Culture of Kindness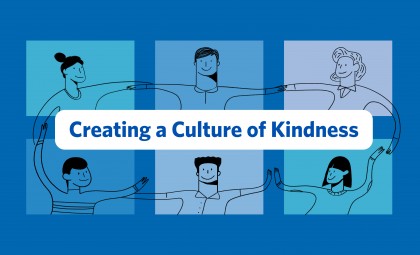 For the community at Bluewater Health, the We Are Bluewater Health campaign is more than an employee feature – it's an established part of their positive hospital culture.
Now in its third edition, We Are Bluewater Health is a storytelling initiative that began in 2017 and was inspired by the popular online photoblog Humans of New York. The campaign showcases the lives of Bluewater Health staff for the Sarnia-Lambton community by providing first-person accounts and portraits of the people who work there.
These special feature posts are published once a week to Bluewater Health's Facebook, Twitter and Instagram pages using the hashtag #WeAreBWH and always focus on the story of just one member, regardless of their role. The posts are also printed into posters and displayed on the walls of both the Sarnia and Petrolia locations.
As an organization committed to sharing impactful Subscriber stories, HIROC is delighted to share initiatives such as this one with hopes that it may inspire similar projects at your organization.
Learning More About the #WeAreBWH Campaign with Julia Oosterman
"This initiative came about because we wanted to humanize the hospital," said Julia Oosterman, Chief, Communications and Public Affairs at Bluewater Health and lead of the campaign. "We wanted to remind the community that the staff who work in the hospital are the same people who drive your kids to soccer, coach your sons and daughters, and shop at your grocery store."
According to Oosterman, a main focus for both her organization and communications team is to promote a culture of kindness. One of the ways they do so is by creating projects that encourage staff to show their authentic selves and express what makes them happy and proud to be working at Bluewater Health.
"We are really just showcasing the everyday people who work here, people who exemplify our values," added Oosterman.
On top of highlighting staff for the community, Oosterman also wanted to overcome some of the communication barriers separating staff from seeing each other's day-to-day experiences at work.
"It's easy with two sites, multiple teams and different reporting structures to think about your team and where you sit in the hospital," said Oosterman. "It was really important to break down silos and remind people we're all just one team."
Garnering Participation
Although the campaign is currently very popular among staff, Oosterman says this wasn't always the case.
During the first round of the original campaign, some staff were a bit reluctant to take part and be in front of the camera. Bluewater Health's communications team had to reach out to directors from different departments to see if they could get any participation from them.
However, once staff saw their fellow colleagues in the spotlight and experienced the benefits of sharing these stories with the community online, Oosterman and her team saw a huge uptick in engagement, excitement surrounding the campaign and voluntary participation for the second edition.
"Where people were really proud to share was when it came to their own teammates," said Oosterman. "People are proud of their people."
Oosterman says the campaign has had a significant impact on the positive increase of Bluewater Health's employee trust scores, and it has also increased the overall impression of the organization by 24 per cent.
Creating Your Own Version of We Are Bluewater Health
If you're interested in forming a similar campaign of your own, Oosterman recommends the following:
Check out the Humans of New York social media accounts and do a deep dive into how they put together their features.
For your first campaign, reach out to directors or managers and ask that they recommend the names of around 10 people who exemplify the values of your organization.
Actively encourage your staff to follow your organization's official social media accounts, and ask that they share and engage with content published there.
"It's not a very difficult campaign and it doesn't take a long time," said Oosterman. "But the meaningful impact of it is quite profound and bigger than I would have predicted."
If your healthcare organization has a campaign that you'd like to share – we'd love to hear about it! Please connect with us at communications@hiroc.com.
By Marc Aiello, Communications and Marketing Coordinator, HIROC