Creating Conditions to Think Differently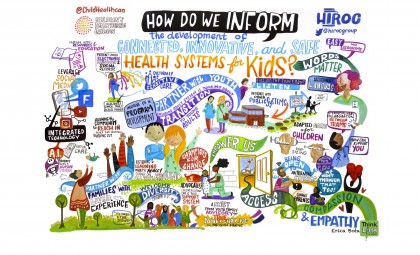 Children's Healthcare Canada conference inspires real talk on the health of Canada's kids
 
"86 per cent of Canadians think the well-being of our country's kids is better than it is," said David Coletto, CEO of Abacus Data. Canadians might think we rank in the top five of forty developing countries when it comes to our children's health – Coletto says we actually rank 25th.  
At the 2019 Children's Healthcare Canada conference held in Ottawa from December 8-10, co-hosted by CHEO – Coletto and fellow panelists spoke about advocacy, specifically how we can get children's health back on the radar. 
"We have a perception issue," said Alex Munter, President and CEO of CHEO and moderator of the morning session. Munter walked panelists through a number of topics, including how we can engage families in advocacy work in a way that does not feel exploitative. All panelists agreed that a part of that work relies on creating space for families to tell their stories. "Family stories make the data meaningful," said panelist Catherine Gunn. 
Senator Stan Kutcher offered the important point that advocacy is not the same for family members when you're not paying them. "Make sure you put aside money needed to train family and youth advocates and respect their time, expertise and knowledge financially." 
Julie Drury, Strategic Lead – Patient Partnerships with the Canadian Foundation for Healthcare Improvement also touched on this point during the conference's opening panel the day prior. "We are becoming your unpaid workforce," she said, when it comes to advocacy but also as caregivers to loved ones. 
Drury sat on a panel debating the future of healthcare, alongside Dr. Zayna Khayat, Dr. Kurt Newman, Amanda Whitewood, and Dr. Alika Lafontaine. 
Khayat presented a number of emerging digital tools and trends taking our outdated healthcare policies and processes by storm – virtual reality, voice recognition, and so much more. 
Her fellow panelists expanded, adding that innovation in healthcare isn't just about technology – it's also about tax policy, social policy, and so much more. This multifaceted approach was echoed by all delegates at the conference. 
This year HIROC partnered with Children's Healthcare Canada, hosting a one-day pop-up of its Let's Talk with HIROC conversation space where delegates were asked one question: How do we inform the development of connected, innovative, and safe health systems for kids?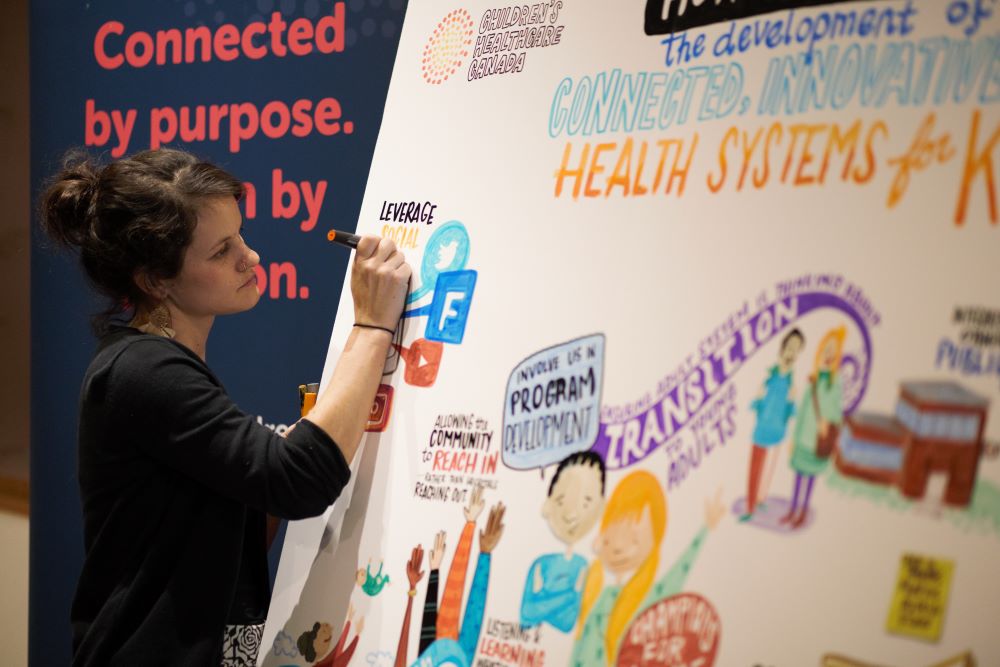 Throughout the day, delegates popped by the lounge to offer their thoughts on the future of healthcare safety. Their ideas were visually illustrated and mapped by a talented ThinkLink artist, Erica Bota. 
What was heard, echoed the themes of the two-day conference. The future is about interdisciplinary collaboration, partnering with families with lived experiences, involving youth in program development, supporting wellness, and integrating interoperable technology like patient-owned electronic health records. The people who came by to connect with HIROC and add their ideas to the board were incredibly passionate about their work – my team and I learned about so many unique patient and family-oriented programs taking place across the country. 
"The awesome visual representation echoes exactly what Dr. Maureen O'Donnell said at the start of the conference," said Philip De Souza, Director of Communications & Marketing at HIROC. "We are connected by purpose and driven by passion."
"Thank you for your enthusiasm, your support and most of all your engagement," said Emily Gruenwoldt Carkner, President and CEO of Children's Healthcare Canada on Twitter after day one. Throughout the event the social media reach of #ChildHealthCan2019 soared to an impressive 12.7 million.
One thing became crystal clear as the Let's Talk board and social media feeds filled up with ideas – we all need to take time to listen to the various voices in the system and empower those individuals, whether it's a child, their siblings, their parents, or one another.
As Zayna said, it's about creating conditions for people to be courageous enough to ask questions and to try things differently. 
Michelle Holden, Lead, Communications & Marketing, HIROC