Claims Audit Reports on HIROC.com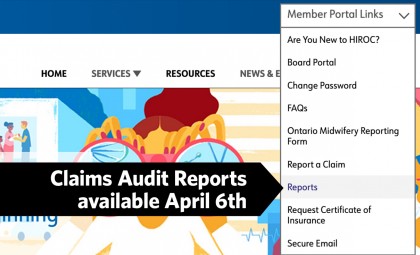 As of April 6, the 2020 Claims Audit Report will be available on HIROC.com. To learn more about the report and how to access it, we sat down with Nancy McCurdy, Lead, Claims Support at HIROC. 
What is the Claims Audit Report?
Nancy McCurdy: The Claims Audit Report is a personalized report for HIROC Subscriber organizations. It is produced annually and lists all claims for a specific Subscriber from the inception of HIROC.
Those organizations which have not reported claims, receive a Claims Audit Letter confirming they have not reported any claims.  
Is a Claims Audit Report prepared for all HIROC Subscribers? 
Nancy: A report or letter is prepared for all Subscribers, with the exception of midwifery Subscribers. 
At all other Subscriber organizations, the CEO, CFO and Primary Risk contacts have access to obtain the report or letter from HIROC.com. While we are preparing the report, these contacts will receive more information via email – they will also be notified once the report is ready. 
How does this information assist HIROC Subscribers?
Nancy: The information provided in the Claims Audit Report and Letter is required by our Subscribers' auditors to complete the financial audit process. The report is prepared using year-end data as at March 31. 
This report is intended for financial audit purposes, but HIROC's website also provides other claims and risk management reports. 
When will the 2020 Claims Audit Report be available? 
Nancy: The 2020 report and letter will be available on HIROC.com on April 6, 2020. After April 6, the report remains available at all times (as well as reports dating back to 2015, when the portal came into use).
Where can Subscribers access their Claims Audit Report on HIROC.com?
Nancy: To ensure secure delivery of this proprietary financial information, Subscribers must be logged in to HIROC's website before they can access reports. Once logged in, select Reports under the Member Portal Links drop-down. To ensure full functionality, we encourage Subscribers to use Chrome to access Reports on HIROC.com. 
The report is protected under a Freedom of Information (FOI) request and includes a legal disclaimer.
Subscribers with questions about their Claims Audit Report or Letter can reach out to us at ClaimsAuditReport@hiroc.com.