A Celebration of Frontline Genius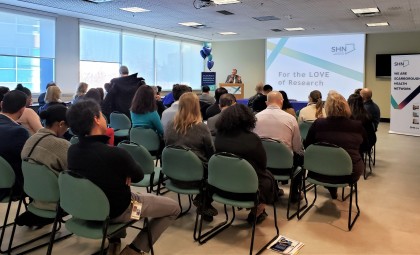 Scarborough Health Network (SHN) hosted its first-ever research poster convention titled "For the Love of Research & Innovation Symposium" on February 14, 2020, at its Centenary hospital location.
The event showcased the incredible ingenuity of SHN staff and team members from across its community, who are actively transforming the patient experience through innovation, education and research. HIROC was on-site at the event both as a supporter and as an advocate for organizations building cultures of innovation and developing new ways of promoting patient safety.
The foyer was packed with a crowd of curious attendees, who walked through a gallery of more than 30 project posters, abstracts and prototypes. Contributors stood alongside their projects and enthusiastically exhibited their research, eager to respond to feedback and answer questions.
The projects delved into areas of focus across a range of healthcare perspectives, such as process improvement, healthcare system redesign, therapy optimization, and multi-site studies on subjects like breast cancer.
One project even looked at the effects of virtual reality (VR) games on reducing anxiety in paediatric patients undergoing surgery at the hospital. Symposium attendees were tasked with the responsibility of voting for a research project to receive an award at the event's closing ceremony.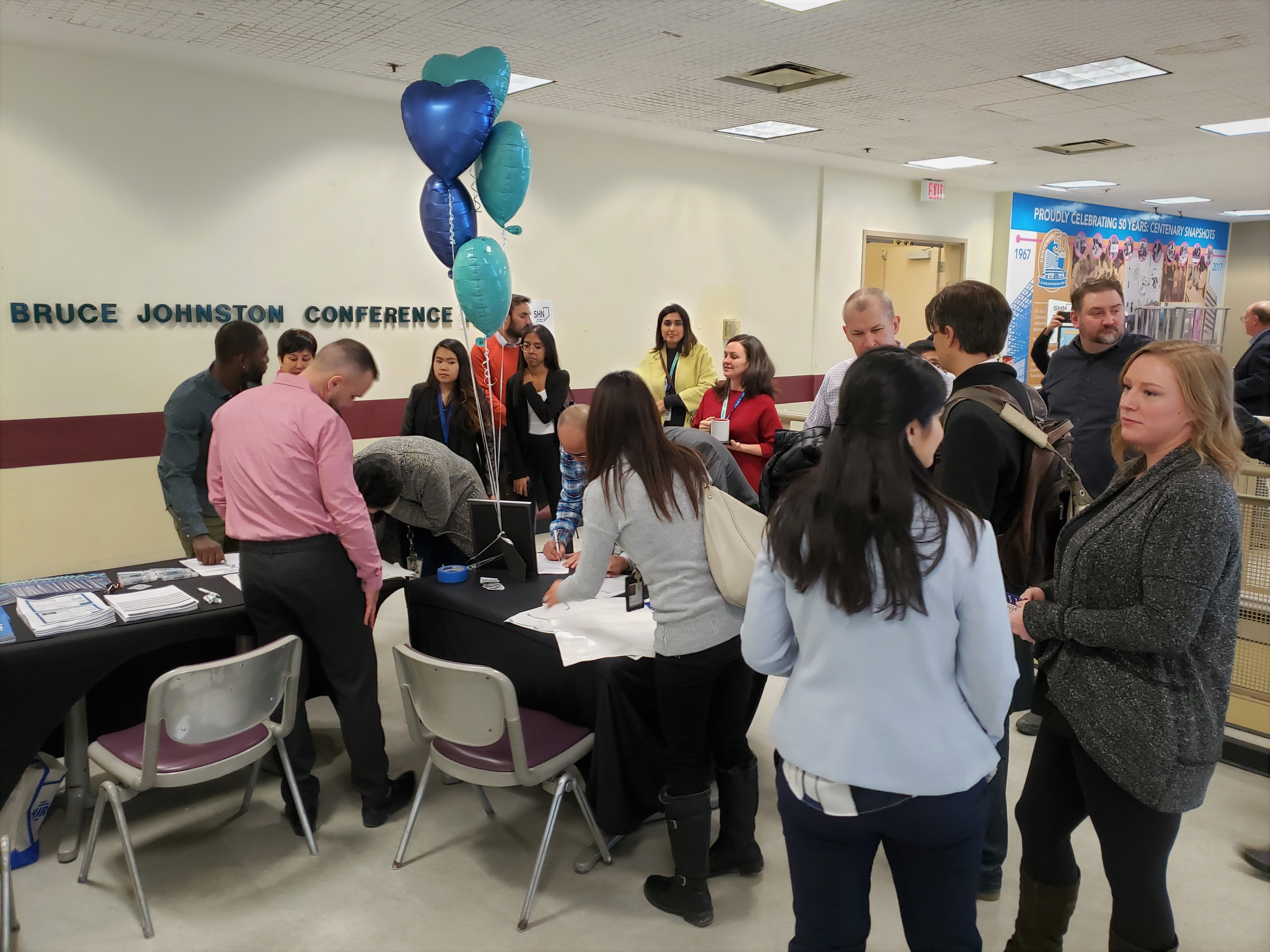 Valentine's Day was a particularly appropriate date for the event because there was a strong feeling of admiration and appreciation for SHN's poster exhibitors among the crowd, especially for their ingenious research, innovative problem-solving and dedication to the community they serve.
"This whole symposium allows us the opportunity to talk, exchange ideas, share our experiences and connect with one another," said Dr. Dick Zoutman, Chief of Staff at SHN. "Let's celebrate each other and the research, and acknowledge that what we're doing stimulates joy – it's just good fun."
The day kicked off with a fascinating keynote by Dr. Michelle Greiver, Director of the University of Toronto Practice-Based Research Network at the Department of Family and Community Medicine. She spoke about how organizations can make better use of data to foster a culture of curiosity, the importance of asking questions and analyzing hospital processes, and freeing up time to think about innovation.
One of the ways Dr. Greiver freed up "time to think" in her schedule was by trialling a practice of no longer talking about general checkups with her patients. Instead, she encouraged their healthy habits with positive reinforcement and told them to visit her every other year instead of annually.
After a year, this practice not only provided Dr. Greiver with the time she was looking for to innovate, but it also reduced the use of hospital resources.
"My schedule started looking like Swiss cheese, there were all these gaps, all these holes, and all of a sudden I freed up time to think," said Dr. Greiver. "Finding time to think is hard when you feel like you're on a hamster wheel. We should focus on freeing up time for everyone's genius."
The genius Dr. Greiver was referring to was what she called "frontline genius," and symposium attendees were given an opportunity to gain insight into that concept at the event's plenary session, which featured select works from four panellists.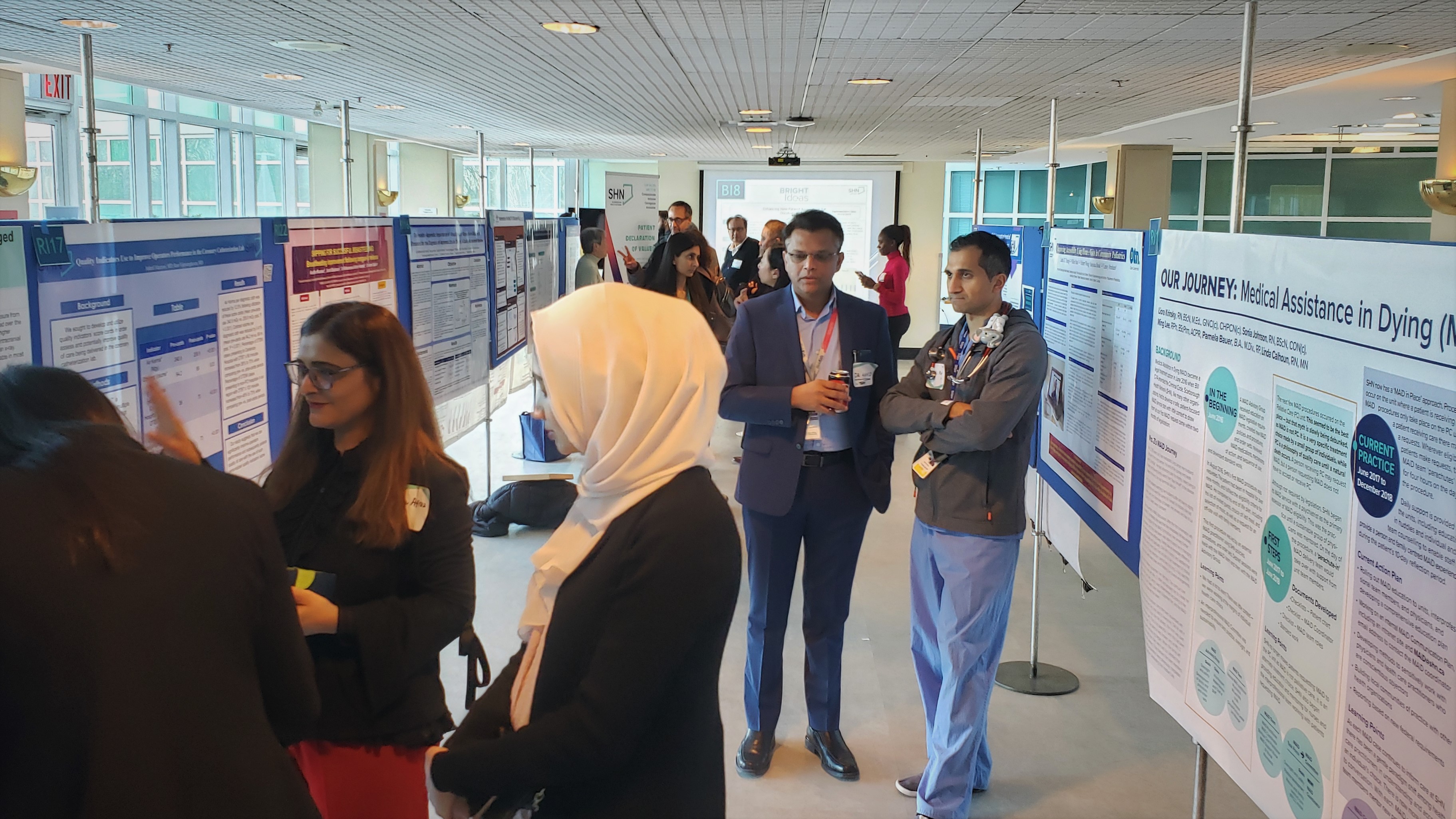 One of the panellists was Dr. Rosemarie Lall, who specializes in Family Health Medicine. Her frontline genius came from her work in expanding the community's research capacity.
Dr. Lall highlighted the need for better funding, communication and shared research between Ontario's hospitals, suggesting that a virtual patient-physician portal with data assets from across the province would be vital in expanding collaboration.
"If we want to be the best in community health at Scarborough Health Network, we need to demonstrate that we are open for research and business," said Dr. Lall. "We have all the ideas, but we need someone to help put these words on paper."
At the end of this fantastic event, Dr. Lall and her team at SHN were presented with the Sponsor's Choice Award for Research and Innovation for her work in Family Medicine.
HIROC congratulates all project exhibitors for their phenomenal work in improving the patient experience, as well as the event organizers for producing such a remarkable inaugural symposium. We look forward to next year!

By Marc Aiello, Communications and Marketing Coordinator, HIROC