Calling all Human Factors / Ergonomics Students and Early-Career Researchers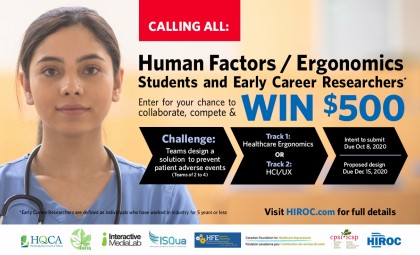 Join our patient safety design competition!
 
June 2021 will mark the 21st Triennial Congress of the International Ergonomics Association (IEA) taking place in Vancouver, Canada.
A number of patient safety organizations have joined together to host a competition that aims to place your ideas in the spotlight at the event!
Teams of two to four will collaborate using their knowledge and skills in human factors and ergonomics to design a solution to prevent clinical deterioration.
For Consideration 
How can good ergonomic design and innovative solutions contribute to reducing avoidable harm and subsequent mortality, through early recognition and intervention for clinical deterioration, and increase quality of life for patients and their family caregivers?
How can we design innovative and ergonomically-informed environments, tools, fixtures, devices, methods and applications that will improve early recognition and intervention for clinically deteriorating patients and improve patient safety?
How it Works
Students and early career researchers can apply now and have until October 8, 2020 to submit intent to participate in the design competition.
Teams will opt for one of two tracks:

Track 1: solutions related to workplace design, industrial ergonomics, occupational health
Track 2: solutions related to human-computer interaction/user experience (HCI/UX)

Short design brief submission due December 15, 2020.
Four finalist teams from each track will be advance to present their innovative ideas at the IEA Congress (June 13-18, 2021).*
At the Congress, a panel of expert judges will select one winner from each track.
Each winning team will receive a $500 prize and a special plaque.
Have questions? Email us at communications@hiroc.com.
---
*IEA Congress registration, travel to Vancouver, accommodation and meals not included