Announcing the winners of the 2021 Patient Safety Talks competition!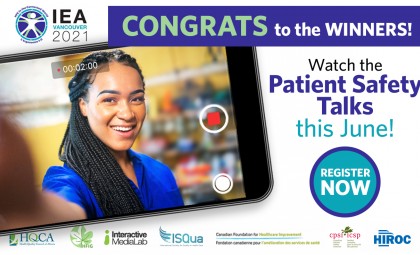 A few months ago, a call to action for human factors and ergonomics specialists making an impact on patient safety was announced in anticipation of the 2021 International Ergonomics Association Congress. 
What resulted was some amazing stories – and now, those stories will have a platform at the Congress this June.
Register for the Congress today!
Delegates will be treated to a unique session format - "quick bites" liken to the ever-engaging TEDx-like Talks.
The winning speakers will be giving talks describing a patient safety problem, how they have addressed or mitigated that problem using HFE methodologies, as well as the achieved outcomes and lessons learnt and of course, impact on patients.
"I'm excited about the format" said Jonas Shultz, Chair of the competition and one of the judges. "I'm excited to see the wonderful work of these HFE practitioners, and I'm hopeful that their ideas will be adopted by other organizations who will be tuning in to the talks," he added. 
The competition is sponsored by the Healthcare Insurance Reciprocal of Canada (HIROC) who will also be awarding the winners a prize.
The congress is virtual this year, but that won't stop it from being an unforgettable experience. 
Here are the winners of the Patient Safety Talks – in no particular order: 
Tabitha Chiu, Sinai Health System with Diverting Diverters Through Lock Boxes
Noorzaman Rashid and Sue Hignett, The Chartered Institute of Ergonomics & Human Factors (CIEHF) with Rapidly Manufactured Ventilators for COVID-19
Anita Jogia, London Health Sciences with Human Computer Interaction (HCI) in General Radiography (x-ray): A Case Study to Consider HCI factors when purchasing x-ray Equipment
Deborah Goodwin, Ministry of Labour and Immigration at the Government of Alberta with Guidelines to Plan, Design, and Construct Healthcare Facilities for Safe Client Handling
This contest wouldn't have been possible without the following partners who are committed to safe and quality care throughout our healthcare system: 
Health Quality Council of Alberta (HQCA)
International Society for Quality in Healthcare (ISQua)
Canadian Foundation for Healthcare Improvement (CFHI)
Canadian Patient Safety Institute (CPSI)
Interactive Media Lab (IML), University of Toronto (UofT)
The talks are a way to raise awareness not only among the HFE community, but much wider to healthcare professionals and patients. Sue Peters, a patient representative on the planning committee shared how she's eager to learn how human factors can support safe care.
"It's all about placing the patient and their families at the centre."

Sue Peters, Patient Representative 
Congratulations to all winners, and best of luck as you take centre stage at IEA Congress!
If you'd like to hear their stories, register for the Congress today!
By Julian Abraham, Communications and Marketing Associate, HIROC