All Hands on Deck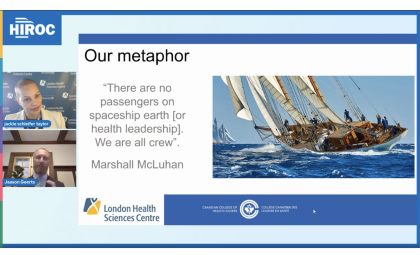 Essential Leadership Skills for Navigating the Pandemic's Choppy Waters
 
On October 19, 2021, when Jaason Geerts and Dr. Jackie Schleifer Taylor presented at the HIROC Conference it felt like the pandemic was finally waning. Geerts (Director of Research and Leadership Development at CCHL) and Schleifer Taylor (President & CEO of London Health Sciences Centre) came to share their research on what health leaders should be doing when the place is no longer on fire, but the crisis is not over; they call this the recovery stage. While we may not be in recovery just yet, their message is incredibly important as we work toward it. 
In June 2021, Geerts, Schleifer Taylor and over 30 others released their research, Guidance for Health Care Leaders During the Recovery Stage of the COVID-19 Pandemic. The full paper and the associated infographics are all open access. 
While we recap some of the key points from the HIROC Conference, we have also made a recording of the session open source. We encourage you to share this very inspiring talk with your teams and those who could benefit from it. Watch the recording on Vimeo.
During the talk, Geerts and Schleifer Taylor refrained from defining leadership by what's on a person's CV – it's how you bring people together on a human level. "In healthcare leadership there are no passengers, if you get it right we are all the crew," said Geerts. 
Geerts highlighted three silver linings from the pandemic: 
Adaptability and rapid innovation
Geerts referenced changes in virtual care at CHEO to illustrate his point. Before the pandemic, CHEO went from a three-year plan to introduce virtual care across the organization, to shifting 70 per cent of their care to a virtual setting over the course of one weekend at the pandemic's onset. "That is a tribute to the human capacity to innovate," Geerts said. 
Unprecedented collaborations across organizations and communities
We've seen countless examples in the past 21 months of community organizations working with hospitals and government to get vaccines into arms, and keep people safe. 
New levels of leadership
Leaders are trusting frontline staff to find workarounds, creatively, on the job, in the minute. This is how we drive innovation in patient care. 
Geerts and Schleifer Taylor presented several options for leadership strategy in the coming weeks, months and years. While leaders may choose to keep the status quo or simply put out the fires, we need to be learning from what we've seen over the course of the pandemic and enabling teams to act on it. 
"Everyone who works within the health system… comes into it to be of service and comes into it wanting things to be better," said Schleifer Taylor. She added that the focus must be on showing healthcare providers at all levels what their work can do in making this a better system for the populations we are serving.
They left us with three important questions to consider: 
What should be sustained from the pandemic?
What should be better and more equitable? 
How can leaders champion and embed this? 
"Leaders, informal or formal, your job in all of this is to make sure you are starting the conversation and gathering the input to fuel the acceleration of improvement," said Geerts.
Watch the full session from the 2021 HIROC Conference and please share with your colleagues. As Geerts said, "We are all learning about this together – the wider we can cast our net, the better off we are."
By Michelle Holden, Lead, Communications and Marketing, HIROC