Adapt and Embrace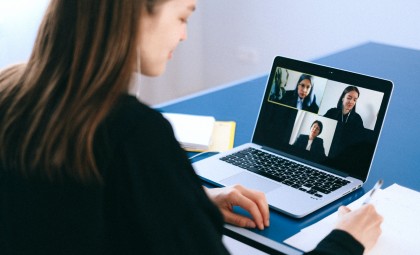 One of the most basic and oldest forms of sharing knowledge is the gathering of experts who, through lectures and presentations, disseminate information to an audience eager to learn.
Before the COVID-19 pandemic, in-person educational conferences were a staple for Canada's healthcare community. Conferences were an opportunity for delegates from across the country to step out of the office to network with colleagues, exchange ideas through discussions, and learn something new from listening to speakers.
But in early March of this year, governments had to enact strict social distancing measures to make an impact on community spread of COVID-19. While safety measures suddenly took the in-person conference experience away, organizations have been quick to adapt to virtual.
For Oana Matei, Organizer and Event Planner at Spark Conferences, going digital with the Emergency Preparedness for the Health Care Industry conference in Toronto offered a chance to embrace the future of learning.
They knew they couldn't cancel because they'd lose out on all the invaluable perspectives both speakers and delegates would bring. But their concerns were whether they would still be able to engage with their audience and provide the educational value they are known for through a computer screen.
"I heard that hundreds of organizers were moving their events to the fall, and I thought 'Where are we all going to fit?'"
On May 13, Spark Conferences decided to take a calculated risk and host their first-ever virtual conference using Zoom. HIROC was a proud educational partner for this event, and supported its theme on emergency preparedness. The day-long meeting aimed to provide critical knowledge and experiences from healthcare professionals and experts in emergency management from across North America.
Matei and her team wondered if delegates and speakers would still be interested in attending until she realized the grit of the people she was dealing with. "There was a bit of irony about the whole thing," said Matei. "To think of cancelling a conference on Emergency Preparedness because of an emergency… all the speakers and delegates were already prepared to adapt!"
For Dr. Sean Moore, Emergency Physician at Lake of the Woods District Hospital in Kenora Ontario, having to quickly adapt to going virtual was nothing new. In fact, it was welcomed.
"Most conferences haven't gone to Zoom. Most have been cancelled. But I appreciate the change of pace and the chance to try something different," said Dr. Moore.
"Coming from a rural place, we don't have a chance really to have these conferences and ask questions."
Dr. Moore was one of five presenters at the conference, providing a rural and remote perspective on disaster preparedness in Northern Ontario, which is critical in understanding the full scope of what Canadian healthcare encompasses. The virtual experience is a necessity for these communities – from a learning and a care perspective.
"Because we operate in a rural region, telemedicine is used quite often," said Dr. Moore. "If we are transporting a patient from a nursing station in Northern Ontario to the nearest non-tertiary centre in Kenora, there are hours of air travel providing an opportunity to partner with practitioners in Thunder Bay and use online care."
As the pandemic preoccupied the lives of healthcare professionals across the country, it would've also taken away perspectives like Dr. Moore's from being heard by the healthcare community if it weren't for the opportunity provided by the conference now being virtual.
This also held true for the other speakers at the event, including Dr. Howard Ovens, Emergency Physician and Chief Medical Strategy Officer at Sinai Health System. He was able to step away from the emergency department on the frontlines for a moment to offer his experience fighting disease outbreaks in Ontario, and the importance of fighting fear with evidence from trusted sources.
"COVID-19 is in the community, and it's not going away," said Dr. Ovens.
"But if you embrace the mission and feel proud of the work you're doing, it helps balance out the fear factor."
Although the future of the pandemic is uncertain, one thing that remains constant is the need for knowledge sharing. And as a trusted healthcare safety advisor, HIROC understands that sharing knowledge through educational forums is a productive way to support healthcare professionals.
Digital events such as this one, or the upcoming Keystone Apex certificate program with Simulation Canada – reinforce the importance of sharing best practices, all with the goal of turning the corner on patient safety. To learn more about the Keystone Apex program and simulation-based education, please visit their course website.
By Marc Aiello, Communications and Marketing Coordinator, HIROC